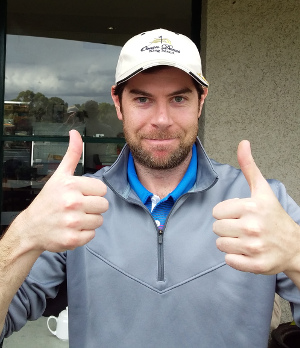 Expectations were high, no footy, no ashes, what else could be on the cards other then a round of golf. Well something must have been on as only 15 members started the days play, which included a couple who had been away for a little bit. Targe was back after his hand surgery, Michael was back after some time off due to injury and Craig was back after taking some time off to go golfing in the UK!
It was also very cold in the morning and it took quite a while for the frost to thaw out, but the sun soon came out and it turned out to be a very nice day. Porks was also having a very nice day and played consistent enough to blitz the field by 4 points to win with 39 stableford points. Without a couple of dashes and a few duffed approach shots it could have been better still. There were a few reports of fat shot and tough chips due to the soft fairways but hopefully things clear over the next few weeks.
Way back on 35 points a trio shared 2nd place, none other than Brendon, Targe and Peter. Targe was having a few troubles with his hand but this did not seem to hinder his ability to score. On his lonesome in 3rd place was Ken on 32 points and in 4th place was Craig on 31.
One point further back, Dennis and Gordon both handed in cards with a shiny 30 points on top which was enough for 5th place. Gordon admitted to missing a putt from 3mm away from the hole. How is this even possible some might say? There were 6 birdies scored throughout the day, the greens were particularly difficult due to the frost which could have contributed to the low number.
The ball hole on the 12th was hotly contested, Enzo placed the early marker but Simon kindly asked Targe to keep reading the sheet when announcing the results as he had beaten Enzo to take the prize. The pro pin was on the 15th and was again a jackpot. Triple jackpot next week in fact!
Now Michael was not having the best of days on his return, he was seen sporting some strapping on his troublesome knee and unfortunately when walking down from one of the tee boxes he hurt his knee again. He continued to play out the round and even managed to win the ball hole on the 18th. Hopefully it is back on the mend and he can be back wining the nearest the pins soon.
Some of the guys were guessing how many shots Noodles had on the par 5, it was estimated to be quite a lot by the amount of expletives that he was yelling as he trudged down the fairway.  Turns out it was not too bad and he managed to score a single point for the hole. Noods also was in a bit of a temper and launched his sand wedge from the 12th tee into the pond. Lucky that it deflected off some branches and didnt quite make it to the centre of the pond. He managed to retrieve it without too much concern.
There were no reported draughtys however there were a few close calls. Bob was not having the best day off the tee and came close on a few occasions. SOS also shanked one into the OOB trees on the 15th but played the 'if you can't find it you can't prove where it ended up' rule and as a result no beers were shouted.
After the results Gordon presented Whitey was presented with the September monthly medal, from 2018! Next week is the 2019 medal and Dennis is going for 3 in a row! A happy birthday to Matt and Dennis T who are celebrating birthdays this week. A couple of community service announcements. There has been some break ins during the week into cars in the golf course carpark, please do not keep any valuables in the cars if you can help it. The annual challange weekend away is only 2 weeks away, there will be a regular event at Ivanhoe for those not going so please turn up for easy points.
Results for Saturday, 31 August 2019
1st Ryan Porker(39) 2nd Peter Damou(35) 2nd Targe Mifsud(35) 2nd Brendon Mitchell(35) 3rd Ken Watson(32) 4th Craig Cameron(31) 5th Gordon Hill(30) 5th Dennis Ward(30)
Seniors Results: 1st Targe Mifsud (35) 2nd Craig Cameron (31) 3rd Dennis Ward (30) 3rd Gordon Hill (30)
Nearest the Pin Results: ProPin15th Jackpot BallPin No 1 12th Simon Powell BallPin No 2 18th Michael Gourlay