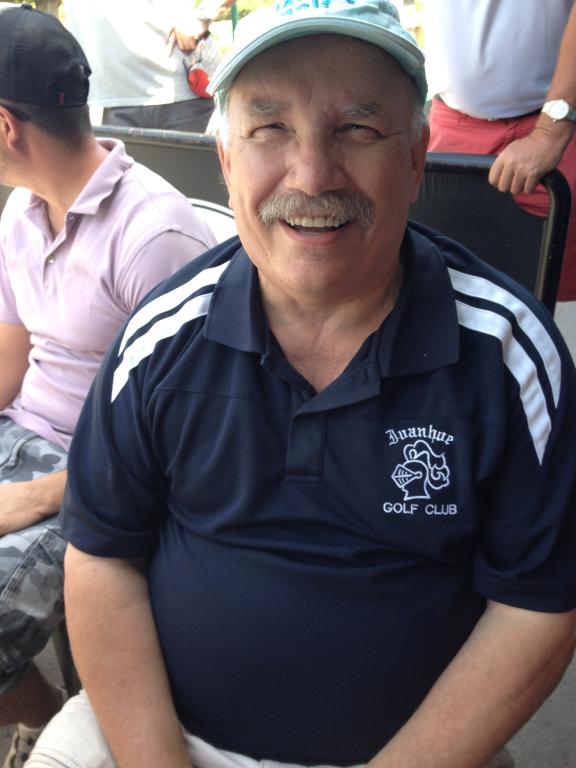 Who was it that said 'never trust a golfer coming back from a break'?  Especially when he has to put in new cards to re-qualify.  Still, we can't be too hard on Allan as, when he 'retired' a couple of years back, he was on 22 so 24 wasn't too much of a let out but it will be a little while before he gets to play off 24 again.  Well done with a score that wasn't too far from his best as far as stableford points goes – third best on a total basis but equal fifth if you take ties into account.  That is, he has put in four cards with higher points than today though admittedly they were quite a while ago.  And just in case you were wondering and haven't gotten down to the bottom of the page, Allan managed a mere 43 points.  Gordon reckons he has a happy knack of regularly marking the winners card but maybe this just a ploy to make people want to play with him.
However the shot of the day would have to go to Paul, who placed his drive nicely into the dogleg on the 3rd and then proceeded to slot it in with his approach shot from about 70m out.  That got him an eagle and

stableford points which is just about as many as you could expect to get on one hole – ever.  That was also nearly as many as some people got on the whole front nine.  But he wasn't alone on the eagle front, as a little while later, John repeated the performance on the 5th.  That is the second double eagle day that we have had this year and nowhere near the 17th which is the usual suspect when it comes to upsetting the big bird.  Paul was also not alone on the podium as he shared the honours with Oliver who is trying to amass enough points on the Championship Table to still be in with a chance at the end of the year.  Might be a bit of a struggle though as Oliver only has a couple or three more rounds with us before he returns to the States.  He is considering the possibility of putting his points on eBay to help defray his relocation expenses.  However it is worth keeping in mind that in a couple of years he is planning to be living on one of the premier golf courses in Colorado and he would be pleased to see any peripatetic Ivanhoe members.
Stefan was here today but without Zimmer in tow and also without the trophy that has been gracing his trophy shelf for far too long.  One of these days, he will remember to bring it in so that we can get it updated and passed on to the rightful holder.  Anyway, he hasn't forgotten how to play the game and put together 38 points to collect the points for third all on his ownsome.
Keith came in next and reckons nobody was more surprised than him when he added up his points at the end of the round.  Come on Keith, you must have had some idea you were going OK.  Or maybe that is the way to play this game – forget how you are going and be pleasantly surprised at the end.  Maybe he even forgot it was his birthday today.  Hope you had a happy one Keith.
Mehmet turned up early after getting a bit of a ribbing over the last couple of weeks and, wouldn't you know it, he drew the very last group.  Still it gave him plenty of time to collect his thoughts and put together 36 points.  Mal needed no extra time to prepare having led off in the first group and put together the same score.  So just the singleton for both of them but every little bit counts when it comes to Championship points.
The nearest the Pin for a ball was on the 12th and John was the man to get his name on the card.  He also put in his third card today and now has a bright new handicap – pity about the eclectic not having started for him yet.  The ProPin was on the 18th and Noodles very happily accepted the pot particularly after he claims to be the founding member of the World's Worst Putter Club.  During the round he inducted Laurie into that exclusive group and by the end of the round he announced that Laurie was the Vice-President as well.  Talk about advance through the ranks.
After the round, Bill was giving advice on how to play out of pot bunkers, a skill he apparently picked up in St Andrews – the same St Andrews where he claims to have left his swing a while back.  Bill hasn't yet managed to birdie the 8th (it was the one missing from his Eclectic last year) so with his second on the green today, Bill wasn't going to leave it short.  Unfortunately, the pace was just a bit too much and the ball popped out to leave the easiest of tap-ins for the par.  Laurie claimed he was disadvantaged by the hole having been moved further away.  Oliver has a nemesis on the birdie front with the 18th and it is one of his ambitions to complete the set before he leaves.  While on the subject of birdies, we managed to put our hands up for 16 and quite a few of those were down to Pepsi who has leaped to the front in the Eclectic as a result.  And of course there were the two eagles so all in all a good day at the office.
Don't forget that Club fees ($20) and GolfLink subs ($90 if you have an IMSGC registration – member number starts with 34137) are due and really need to be paid before next week so that we have funds to meet our obligations to the VGL.
Don't forget, there is no harm in registering your interest in the Matchplay even if you are absolutely sure that you will be playing in the qualifying round in March.  Circumstances can change unexpectedly and we would hate you to miss out.  By the way, the registration also has the option to say that you are not interested.
The AGM is fast approaching and we need nominations for Committee positions.  The nomination form is downloadable from the site so there are no excuses.
Results for Saturday, 24 January 2015
1st Allan Davies(43) 2nd Oliver Gross(40) 2nd Paul Rowland(40) 3rd Stefan Belevski(38) 4th Keith Delzoppo(37) 5th Mehmet Akdag(36) 5th Malcolm Fleming(36)
---