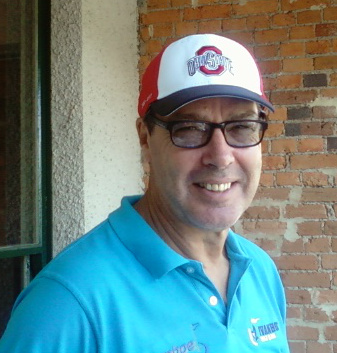 Conditions were tough again out there, dewy fairways, freshly sanded greens, long and thick first cut rough and some blustery wind resulted in some lower than usual scoring across the board. Only 4 birdies for the day reflected this although there was one member who could have almost had a blinder if not for a few late scratches, but ended up beating his handicap by 1. This was none other than Gordon, who has been away for a few weeks and the break has not done him any harm and a 1st place in the competition was well deserved.
"Michael said Gordon's round was built on his trusty 9 iron being hit perfectly time and time again into the greens for easy two putt pars, including brilliant shots over the trees on the third and fourth. A spectacular chip in for par on the 10th also kept his round on track, but the highlight was on the 9th when, after hitting his drive short and way right, near the 18th tee, Gordo pulled out his trusty 1 iron – yes a 1 iron – and hit it flush, low and under the trees with a big left to right curve. It bounced on the hill just before the green and skipped up to about 15 feet for another easy two putt par. Michael is still shaking his head with how good that 1 iron was!"
Rob Priems, who would have thought that a -3 would have maybe snuck in for a point, but was good enough for second place overall.  Now we thought that SOS had equaled him in second, but after an official review of the score cards his score of -4 placed him in third. A birdie on the 1st and 18th holes assisted with this and 50% of the clubs birdies for the day.
Not to be outdone, there were 5 guys tied for third, with Bob, Brendon, Dennis and Jason all coming home with -4. Keeping the tradition alive, Jason in his first eligible competition scored points. Rod G ended up just one behind on -6 to take out 4th position.
Now not sure if this should qualify or not, but 5th place was shared by Michael and Ryan, with -7! Ouch. I won't say how the others went who did not qualify in the top 5, but they did not do any better than -7…..
Seniors results today were Gordon 1st, Bob and Dennis sharing 2nd and Rod 3rd. Simon needs to lift his game if he is any chance of catching the beast. Dale who has come along with Brent and Jason put in his 2nd card today.
There were quite a few balls lost, and some could not be found at all when they appeared to land just off the fairway. The longer than usual rough caused havok and in some cases balls could not be found unless stood on.  Making up for losing a few balls, (6) Ryan made up for it by winning the nearest the pin on the 18th. There was some confusion about the placement of the money vs the ball hole, but in the end the money went to Michael who put it close enough on the 12th.
There has not been an eagle for quite a while, currently there are 19 balls in the eagles nest. Something to look forward to over the next few weeks, with the weather warming up the chances of the trend breaking are getting better and better.
There are a few birthdays during the next week, the Beast, Michael and Trevor all celebrating milestones. Happy Birthday guys.
A shout out to Matt Hunt who has been battling an unexpected health issue and is having a procedure this week to sort it out. We are all thinking of you and hope to see you recover and back out on the course soon.
Results for Saturday, 24 September 2016
1st Gordon Hill(+1) 2nd Robert Priems(-3) 3rd Jason Hopkins(-4) 3rd Bob McDonald(-4) 3rd Brendon Mitchell(-4) 3rd Stephen O'Sullivan(-4) 3rd Dennis Ward(-4) 4th Rod Grant(-6) 5th Michael Gourlay(-7) 5th Ryan Porker(-7)
Seniors Results: 1st Gordon Hill (+1) 2nd Bob McDonald (-4) 2nd Dennis Ward (-4) 3rd Rod Grant (-6)
Nearest the Pin Results: ProPin 12th Michael Gourlay BallPin 18th Ryan Porker