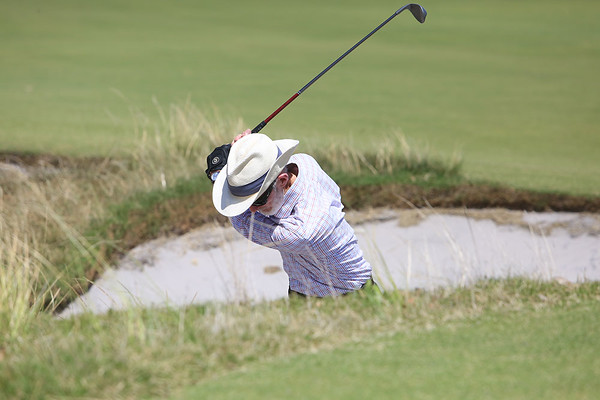 What happened to all the money-grubbers.  There was a jackpot up for grabs on the ProPin but a measly 16 players managed to drag themselves out of bed to get to the course for the (slightly) later starting time.  Even Brendon got there early but only because he had scabbed a lift from SOS who is a notorious early riser.
It really was a nice day for golf with a mild temperature and absolutely no wind.  DennisT had predicted that it would start blowing at eleven but that time had come and gone by the time that he got to the 18th and he showed that he needed no wind assistance to put his tee-shot to 3.6m from the pin. This was more than enough to put a smile on his face and put paid to his claim that he had never won a ProPin since he joined the Club.  ChrisV a couple of weeks back and now Dennis.  Can't be too many left in that exclusive club now.
If anyone had suggested to Harry, after totalling his score for the first nine, that he was in with a chance of winning the day, the response probably would have been 'Tell him he's dreaming'.  But it's amazing what five pars in six holes can do to a score card and, but for three eminently gettable missed putts on the 17th and 18th (between them, not each), the 22 points on the back nine could have been even more.  In the event, the 37 point total was just enough to take the top spot.
Damo and Bob had such a great time playing together that they even managed to put together the same score with 36 points.  They were joined by Chrispy who is also protecting his handicap by just managing to play to it as required.  Bob reckons that his score should have been at least 46 points but it is hard to tell whether that is just 'Bob' or whether there was some truth in the matter.  Still, he has been there or there-abouts quite a few times this year and if he can keep it up without harming his handicap who knows what might be at the end of the year.
Dennis had a bit to say about the bareness of some of the fairways as a result of the lack of water (both rainfall and irrigation) and he did chunk a few from less than well grassed lies.  But, he still did manage to make 34 points and joined the Beast, Les and Ryan for a share of 3rd spot.  Bill's elevation in the rankings (summation error) left CraigC to collect the two points for 4th spot on his own.  Gordon and Brendon came in on 32 to fill the last podium spot.
So, plenty of points handed out today in both the Open Championship and the Seniors.  Despite only getting a point today, Brendon still has a  reasonable lead in the Open event.  Mal's position at the head of the Seniors is still secure.  But, the season is still young and with the vagaries of the game, anything can happen, and probably will.  Brendon, also has the lead in the Eclectic and, although there were a few moves today, not too many of them were down to the numbers of birdies scored.  There were only a fairly miserable 6 carded today.  The Eagle went close to soiling her tail feathers today when Chrispy pitched in to the 14th green for his second and the ball ran round the rim of the cup but didn't fall in and left the easiest of birdies.  The shout that went up was heard in the farthest corners of the course.  But it still would have been only one ball if it had fallen in.  Good for the Eclectic, though.  Targe also scored a birdie on the 17th from a duffed drive that left him a shot over the pond to the green.  With a 'hit and hope' attitude, Targe put it onto the green and sank the putt.  Perhaps that's the way to play every shot Targe!
The BallPin was on the 7th today and the lucky ball winner was Brendon though he didn't look too happy about the choice of balls offered by the Treasurer.
Gordon, had to get away early again today which seems to be developing into a bit of a habit but he is no longer batching so maybe that had something to do with it.  Though he did get a point, Gordon looked to have had (from a distance) a pretty ordinary day on the greens.  Craig had his fair share of problems around the green with the longer, greener grass in particular causing quite a bit of angst after what had been good tee and fairway play.
Chrispy has been watching the ladies golf on TV, purely to try to improve his game, and he commented that he was just like Karrie Webb in that he was missing what should have been gettable putts.  Politeness precludes repeating another comparison between the two that SOS put forward as an option.  Simon was voted the happiest golfer alive because he was always cheerful, even if he had just duffed a shot.  Maybe it was just the thought of the new set of irons that he is in the process of lining up for himself.  If they work as well as he hopes he could be downright unbearable (opps, that should be unbeatable).
For some reason, Damo and the Beast were venturing together into the shrubbery at the bottom of the track down from the 17th tee.  Damo spotted something in the grass and shouted 'Snake' and jumped high and back.  He was only exceeded by the Beast who 'took a speccy' by climbing onto Damo's shoulders.  Meanwhile, the juvenile bluetongue, that looked 'just like a tiger snake' toddled on about its business quite oblivious to the mayhem that it had caused.
Keith turned up for a coffee after the game and gave an update on his recovery.  His plantar fasciitis was improving but he has suffered a bit of a relapse in recent days but he hopes to be back on the track soon.  He declined to consider the treatment that Robert Harvey is reported to have administered to himself for the condition some years back when he was playing for St Kilda.
Birthdays are a bit thin on the ground this week, but if any of you see Jan in the coming week, the Birthday Birdie would like you to pass on a good wish on his behalf.
Next week will see the start of the Matchplay Championship first round.  The draw will be issued very shortly, just as soon as a couple of administrative details are finalised.  It will appear on the web-site and a copy will be sent to all members as soon as it is available.  Do have a read of the Club Rules relating to the event so that everybody is clear and there can be no arguments about timing and procedures.
The Annual General meeting of the Club will be held after the round next week.  All committee positions are open and both President and Vice-President will not be standing for re-election.  Even if they were, all positions are spilled every year so feel free to nominate for any position that you fancy – a vote would do us good and it wouldn't be as complicated as the Senate ticket.  Even if you haven't got any friends to be your proposers, you can just ask your enemies who will surely oblige.  The nomination form is available on the web-site as is a list of the positions available.  While we would like nominations in advance, there will be forms available on the day.
Results for Saturday, 27 February 2016
1st Harry Boughen(37) 2nd Damien Lee(36) 2nd Bob McDonald(36) 2nd Chris Priems(36) 3rd Bill Eastoe(34) 3rd Les Kitchin(34) 3rd Ryan Porker(34) 3rd Dennis Tiernan(34) 4th Craig Cameron(33) 5th Gordon Hill(32) 5th Brendon Mitchell(32)
Seniors Results: 1st Harry Boughen (37) 2nd Bob McDonald (36) 3rd Dennis Tiernan (34) 3rd Les Kitchin (34) 3rd Bill Eastoe (34)
Nearest the Pin Results: ProPin 18th Dennis Tiernan BallPin 7th Brendon Mitchell
---