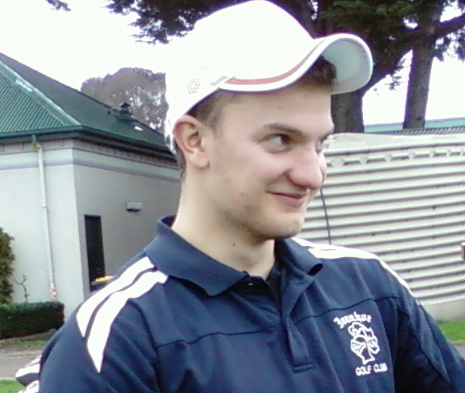 Smiling faces were pretty thin on the ground this morning.  There was apparently some sort of family function on today that kept about 75% on the members away from the important business of playing golf.  But, there were enough smiling faces around for there to be a 'proper' competition and nine members set out buoyed by the thought that there could be points to be had.  Harry turned up, doubtful that he might play due to some eye irritation.  But, after a cup of coffee and hearing that Noodles was going to turn up, there was something of a recovery and Harry was in the field.  Noodles went close to getting ducked today.  No, he wasn't playing cricket and it isn't mis-spelled.  As he walked towards his ball on the 11th he went close to a pair of ducks and their brood of eight and after a certain amount of hackle raising and hissing (by the duck), it decided to attack and Noodles had to run for cover.  So, you could say we had a serving of duck with noodles or Number 69 on the menu.!
There was very little ducking and weaving for Stefan today as he regularly peppered the greens from the tee.  On the green at the 11th. just short at the 13th, pin high on the 14th – the points just kept adding up.  Four points for his birdie on the 13th was just one of three featheries that he scored and there were only six in total for the day but with the small field that is perhaps not unexpected.  When interviewed after the round, Stef expressed the view that it was a 'pretty crap' round but perhaps his opinion as a little bit coloured by having taken three putts on two of the last three holes.  Forty points is still a pretty flash score and the handicapper was fairly salivating at the prospect of wielding his little axe.
Next behind Stef with 35 points was Joe who started off like a house on fire to put together 20 points by the turn.  A couple of non-scoring holes on the back nine limited Joe to 15 points but at least it left his handicap safe for another day.  Now, Joe has been out getting in some practice during the week and he uses this opportunity to fulfill some of his child caring duties and he is quite convinced that the young fellow is already taking an interest in the game – when he isn't thinking of eating that is.
Porks revealed that he is really a right hander but that he plays left-handed because his father did.  This prompted Noodles to challenge him to a driving competition using each others club.  It was probably a draw as Noodles put his well and truly out of bounds while Ryan went close to qualifying for a draughtie with his.  Despite the shenanigans, Ryan was able to keep it together enough for his quite good front nine to carry him to a total of 32 points and a share of third place.  The Beast played a couple of steady halves but he was driving pretty well and he was able to drive the 11th and make the birdie and so was able to share the spoils on offer.
Harry had his moment s and managed to leave q few out there due to some less than stellar chipping and putting.  However, the highlight would have to have been the putt from the very back of the green on the 4th to sink it in the hole a bit over a metre from the front of the green for a birdie and an Eclectic point.  Brendon was pursuing everybody to find out how they were running and was calculating his chances of featuring for a point in the Championship.  In other circumstances, he probably would have cried shame for accepting points for 28 points but, today, he made an exception and gratefully, if not gracefully, accepted the last place point.  Six point-getters out of a field of nine – no names, no pack-drill – for those that missed out.
The Nearest the Pin competitions almost didn't happen today.  The acting tee-marshal nominated the holes but did not get the markers from the front desk.  The leading group were detailed to pick them up after the 9th and, fortunately, they were reminded by the following group before they headed off down the fairway and Allan tootled back to the office on his trusty scooter to collect them.  The first ProPin was on the 12th and a couple of people got onto the green but none close enough to lay claim to the money and so there will be a Jackpot to next week.  Now, you would reckon that everybody should know that there is no distance requirement on the BallPin which was located on the 15th.  Stef claims that  he was confused by the several old claim slips in the box and that he thought that he had to be within distance.  The Beast also is reported to have hit the green but he had departed early and so fisticuffs were avoided when the ball was awarded to Stef.  The second ProPin on the 18 also went begging after six out of six in the last group missed the green and Joe's shot from the front group was outside the distance limit.  A bit of an incentive to come along next week to pick up a few dollars.
Brendon was noted playing with a very fetching pink ball today.  Another player on the course had found one somewhere and very kindly offered it as a token of esteem (or something).  Anybody would have thought that Noodles was playing Bridge today and that Clubs were trumps.  It wasn't playing cards that he was throwing around though.  Allan owned up to scoring a draughtie today on the 15th and not only did the ball not get to the red tee markers, it didn't even get to the end of the top teeing area as it dribbled down the side to finish near to the 14th green.
SOS wasn't able to play today as he was feeling a bit sore and sorry for himself after falling off a scooter and breaking a couple of ribs.  No laughing matter and SOS reckons he couldn't laugh even if he wanted to.  Have a speedy recovery, SOS and we look forward to seeing you back on the tee before Christmas.  And, in a message to all members SOS says please pay your Club ($30) and GolfLink ($90) subs as soon as possible by direct deposit into the Club Account (details on the web-site if you don't already have them).
In a similar vein, Gordon has to get deposits ($50 per person attending) in for the Annual Challenge at Rich River next October as a deposit has to be paid to Rich River shortly and we need to get the funds in.  These payments are also preferred to be by deposit into the bank account.  Changes of mind to non-attendance will be possible so it is best to get in and reserve a place rather than run the risk of missing out by leaving it too late.
Results for Saturday, 28 October 2017
1st Stefan Belevski(40) 2nd Joe Wagenecht(35) 3rd Bill Eastoe(32) 3rd Ryan Porker(32) 4th Harry Boughen(31) 5th Brendon Mitchell(28)
Seniors Results: 1st Bill Eastoe (32) 2nd Harry Boughen (31) 3rd Allan Davies (25)
Nearest the Pin Results: ProPin No 1 12th Jackpot ProPin No 2 18th Jackpot BallPin 15th Stefan Belevski