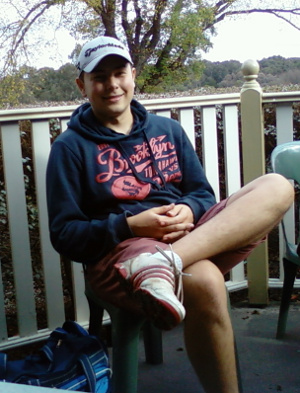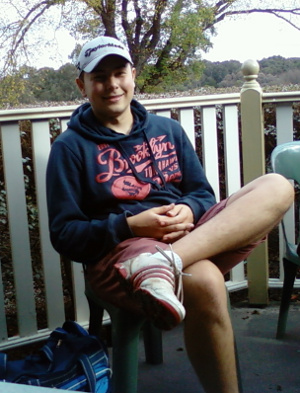 The weather was relatively balmy after the last few days.  Generally overcast, but the sun did break through at times and the sunnies were sort of necessary even if only for that cool casual look.  The course was fairly benign with a bit of recent rain to soften things up a bit in places and the mowers seem to have been set fairly low through the green.  All in all, this augured well for some good scoring.
And between them, the Akdag boys did a fairly good job of it.  The pick of the bunch was Zimmer who apparently 'missed a few' to card 43 points.  It seems the away playing might have had him at an advantage on poor little Ivanhoe.  Even if Zim wasn't hitting them right today, the handicapper has taken a fair slice from his mark.
Ben came in on the second grid position and shared those honours with Gilbert Demiri who played his first official round today and didn't keep his starting handicap for long.  Also on the second row with 39 points were David and RodW.  Rod must have misread (or didn't check) the handicap sheet as he calculated his card using last weeks handicap.  Fortunately that is not an indictable offence but as handicaps do change, it is a good idea to check every week.  There is a list with the tee marshalls for that purpose.
That left Harry and AndrewP to collect the third place points and as usual both agreed that it could have been better.  A few chances left begging.  Targe and Mehmet also played under their handicap to fill fourth spot.  Oliver, Gordon, Damien and Bill all sweated on nobody in the last group coming in to fill one of the gaps in the scoring to hang on for the last point for the day with a handicap equalling 36 points.
The ProPin on the 15th went to Zimmer with a pretty respectable 1.63m from the pin.  Nearest the pin on the 12th went to Gordon who very conveniently neglected to put the marker out on the 7th where it was supposed to be.  Hmmmm, was it just because he didn't get on the 7th?  The birdie count was well up there today with 19 which reflects both the numbers playing and the state of the course.  Nobody scored an eagle though, if Pepsi had put his tee shot on the 17th anywhere near where he intended, his putt in from off the green for a birdie could easily have been one.
Two second round matches were played today.  AndrewB defeated Mo 1 up in a close run thing with a putt coming up a bit short on the 18th saving it from going to a chip off.  Targe and Noodles ended up square and the result did go to a chip-off.  Well, as a chipping competition, it didn't amount to much and it was pretty much a putt-off that handed the match to Targe on the second play.  Targe was obviously keen to win and got a bit short when disturbed by camera noise or something from the gallery and he obviously played on Noodles better nature by letting him know that it was his birthday and how nice it would be to win on this auspicious day.  Happy Birthday Targe.
Last week as we walked up to the 14th, there was what looked like a family of tawny frogmouths perched on the bench under the tree.  Turned out to be Ben and his family.  Seems that Kaim is getting some coaching so it might not be too long before we have another Akdag to contend with.  Ben was careful to advise his lad not to take any notice of what the man was saying during the matchplay chip-off.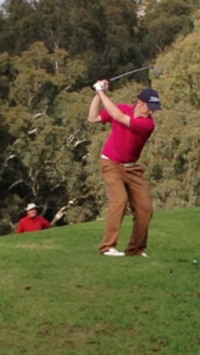 Zimmer and Brendon decided on a friendly match at some stage and they settled on a cap as the trophy that they would play for.  Zimmer apparently won but was really worried as to what sort of headwear might eventuate.  One suggestion was a fetching pink eyeshade that was on display in the pro-shop.  Zimmer managed to capture some of the finer points of Brendon's style while Oliver stood there just wishing he could do that.
Craig had another go at calling a hole-in-one on the 18th but his calibrated eyeball was just a little off – three marker lengths and half the spike (in the absence of a tape) to be precise.
We had a couple of guests along today.  Mostyn Gregg is planning to join us and handed in his first card today.  Unfortunately, our second guest didn't leave his card but at this stage doesn't plan to join us on a regular basis.  Always good to see fresh faces.  Welcome chaps.
The move to get our membership registered with VicGolf is gathering pace and many members recorded their GolfLink numbers for AndrewP today.  However, those of you who weren't here today or who didn't record theirs on the sheet, could you please e-mail AndrewP as soon as you can with your current GolfLink number so that we can get the details transferred.  Also, don't forget that Andrew has a new e-mail address andrew_petricola@hotmail.com .  More details will be circulated in due course.
Results for Saturday, 25 May 2013
1st Kazim Akdag(43) 2nd Ben Akdag(39) 2nd Gilbert Demiri(39) 2nd David Howard(39) 2nd Rodney White(39) 3rd Harry Boughen(38) 3rd Andrew Petricola(38) 4th Mehmet Akdag(37) 4th Targe Mifsud(37) 5th Bill Eastoe(36) 5th Oliver Gross(36) 5th Gordon Hill(36) 5th Damien Lee(36)