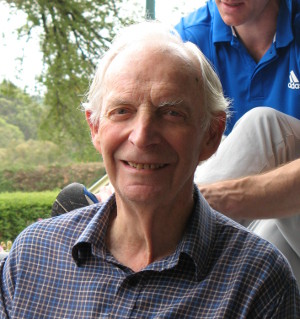 There was a goodly roll-up of twentyone members on a morning that was a bit fresh and foggy.  Only twenty players got to finish the round after Jason received a call that his wife was unwell and he had to dash off to be at her side.  We all hope it turns out for the best, mate.
The course management suggested that tee times could be a bit delayed because of the fog but, quite suddenly, it lifted and the course was clear even if the sun did not show its face for quite some time into the round.  It was about the 14th hole before some saw fit to strip off some of the layers.  And that was quite aside from the heat that was being generated out on the course.
No, it wasn't the sort of heat that was being generated by anger or frustration and, in fact, there seemed to be very little of that sort of heat at all.  It was the heat being generated by all sorts of people burning up the course.  And the one who really did a 'dump and burn' (F-111 fans will know what I mean) was none other than Mal who put on a spectacular display to card 85 strokes off the stick (just one more than his current age) and in the process tallied up a pretty impressive 44 points to take out the day pretty easily.  He did have a bit of luck in places.  His second on the 8th took a nasty bounce to the right, heading for the billabong, but the ball hit the top of the fence and fell back into bounds.  Some days are diamonds.
In equal second place were another couple of seniors with Blighty and DennisW tying it up with 40 points of the stableford variety.  Blighty's card was adorned with a couple of scratches, one of which was down to some interesting shot playing on the 6th.  His 'shot for the green' from the middle of the fairway was a fearsome shank that caught one of the trees, between there and the 7th, plumb and the ball whistled back missing JohnQ's head by millimetres.  Porks reckons it was John's stature that saved him from a hit on the occiput.  Dennis also gashed out a couple of times so there was plenty of potential there too.  But we will have to wait for a few weeks as Dennis is off on a trip to the Orient where he doesn't think he will get much chance for golfing.
JohnQ's near death experience on the 7th didn't seem to affect his game too much as he was able to scratch together 39 points.  He did have a little help on the 9th when a chip that could have been well past, hit the top of the flag stick and fell within gettable distance from the hole.  John was joined in third place by Brendon, Chrispy and Bob.  Bob bobbed up and down in the placings after an appeal on one score was offset by another 'undetected' mis-calculation.  Oh well, easy come, easy go.  Brendon played his usual steady round and probably had his chances to score better while Chrispy seems to have successfully passed on the title of Sir Shankalot to SOS.  It is reported that SOS no longer bothers to line up his shots on the basis that they never go in that direction anyway.
Whitey broke a few hearts today.  No, not the female variety, the golfer variety, when he came in with a score of 37 points to take fourth spot on his ownsome and in the process he pushed a swag of members out of the points.  The after-effects of the cricket season are obviously wearing off or maybe he was just building up to celebrate his birthday.  The Birthday Birdie says have fun on your day, Rod.  In fifth spot, we had another couple of Seniors with Harry and RodG playing right to their respective handicaps with 36 points.
The BallPin today was on the 4th and JohnQ managed to put his drive to pin high but a few metres away and he was not at all confident that it would stand.  In the event, it did, and John collected a nice shiny white ball for his trouble.  The mobile ProPin was on the 15th and a Jackpot from last week when Brendon was found to be just a couple of centimetres outside the legal limit.  He made up for it this week and put his ball 66cm inside the limit (4.34m for the arithmetically challenged) to take the money.  His claim that he missed purposely last week in order to collect the Jackpot this week didn't really hold water.  Why not just win both weeks?  The second ProPin on the 18th went to Rob with a hole/ball separation of 2.37m
JohnQ was pretty pleased with his effort at getting a birdie on the 5th and he would have been even more pleased if his birdie putt on the 6th hadn't missed by a hair's breadth after he left his 'eagle' chip somewhat short of the mark.  But he did contribute to the total of 10 birdies that the field managed today.  There was one draughtie reported (dobbed in, anyway) today and that was down to Porks who hit a beautiful drive (his words) on the second only to have it hit a tree and come back behind the red markers.  He went close to repeating the dose later in the round.  It is unclear whether he owes a drink to Jason who was present during the event but not at the afters.
There were two matches contested today.  Stef and Joe did battle and it was 'big swing' vs 'short and punchy'.  Stef was armed with a new driver with 4.5 degree loft and an extra long shaft.  He obviously needs more distance (not) while Joe could be armed with just about anything given his propensity for wheeling and dealing (clubs, that is).  The six stroke differential was not quite enough on the day and Stef took the match 3 and 2.  The match between Brent and Mal was not so much a battle, more like a slaughter.  Brent just happened to come back from a bit of a break on a day that Mal was absolutely on fire.  Even when it looked like Brent had a chance, Mal would sink a 12m putt, if not to win, at least to square the hole.  There seemed to be little to be done to stop the flow of blood and the match finished with a score-line of 6 and 5.  Chrispy is smarting even more after today, as he went down to Brent so what sort of player does that make him.
One highlight of Brent's round was that he reckons that he played the second on the actual second fairway for the first time after his drive fairly bisected the gap between the trees either side and flew straight and true without a hint of turn in either direction.  It will pay to remember how you did that, Brent.
Noodles reckons he left about ten shots out there and reports of putts missed from 100mm or less would tend to support at least a little of that claim.  Simon has acquired a bit of a reputation for having a target on his back as far as Stef's shots go.  When Stef went ahead up the hill on the 9th, Simon was tempted to 'get one back' when he played his shot from the level ground.  He resisted the temptation, which is more than can be said for the temptation offered by 'coffin nails' (just sayin').
The 'quote of the day' award would have to go to Blighty for his remark 'That ball was in the hole until it wasn't'.    Some balls that did go into the hole was a chip by Dennis for a birdie on the 18th and two efforts by Targe to hit the pin and have the ball fall into the hole.  Brendon reckons that doesn't count as a 'chip in'.  At the end of the day, it's not how but how many.
Results for Saturday, 28 April 2018
1st Malcolm Fleming(44) 2nd Andrew Blight(40) 2nd Dennis Ward(40) 3rd Bob McDonald(39) 3rd Brendon Mitchell(39) 3rd Chris Priems(39) 3rd John Quinlan(39) 4th Rodney White(37) 5th Harry Boughen(36) 5th Rod Grant(36)
Seniors Results: 1st Malcolm Fleming (44) 2nd Andrew Blight (40) 2nd Dennis Ward (40) 3rd Bob McDonald (39)
Nearest the Pin Results: ProPin No 1 15th Brendon Mitchell ProPin No 2 18th Robert Priems BallPin 4th John Quinlan
---