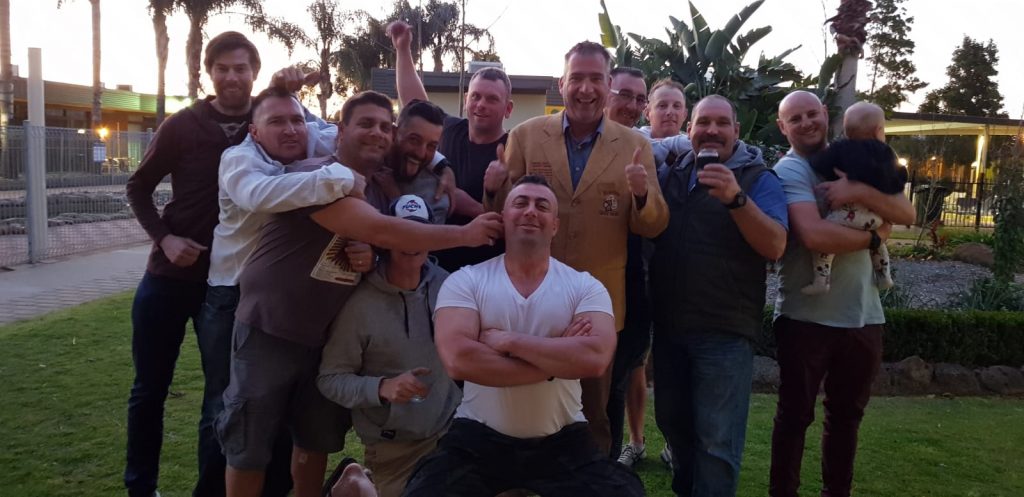 The annual trip was to Rich River in sunny Moama again this year and there was much anticipation as to who would be taking home the fashionable Mustard Jacket! Priemsy was talking a lot of shop in the weeks prior and one could have thought that he had already won it! A practice round was not on the cards for him as the Priems clan embarked on a paddle steamer adventure on the Murray with the extended family on the Friday, with Brent, Jason and Dale all bringing wives and young kids along for the weekends activities.
The course had undergone some recent coring to the greens and the East course greens were particularly slow. The East course was the venue for the Saturday round and scoring was pretty hot early on.  After all of the talk, Chrispy backed it up to set the pace early on with the assistance of a 21 HC, scorched the field with 42 stableford points. Hot on his heels was Dave who scored 40 points and only 2 over par, the early morning putting and driving range practice must have helped! Mehm and porks were not far behind on 39, who fell into the final placings for the final group for Sunday.
The Mustard requires two days of solid golf however, so those still with a chance included SOS on 37, The B's Bob Brent and Benny on 36 and Noods on 35. Rob was a bit further back on 31 points but had to leave for a drive up to the gold coast for work.  The greens work not working as fell for some as they were for others. Porks had multiple birdie putts but did not make any, noods resorted to a claw grip from close range and didn't miss a putt and for the majority of players the adjustment to the speed was difficult to grasp.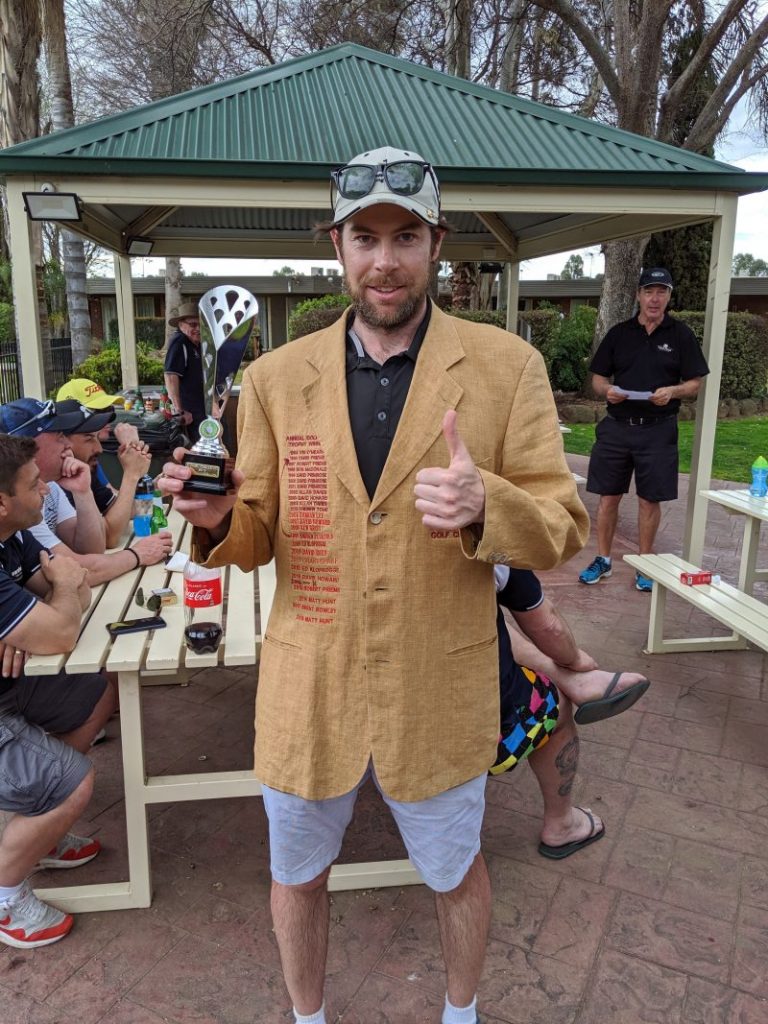 The defending champion had a stinker of a day and unfortunately for porks who had Matty in the Calcutta, Matty only scored 27 points. This included an incident of a club that was thrown, stuck up a tree, and a further two clubs that were stuck trying to retrieve the first!
The main questions for the night were, who would join Mehm and SOS in the pokies for the weekend, as Stef had to pull out due to a friends Wedding, how would Chris deal with a hangover the next day and how early would Dave get to bed?
The afternoon and nights activities included the usual betting on the horses, pokies for SOS and Mehm and a few drinks. Priemsy was enjoying himself and towards the end of the night, Brendon, who had porks in the calcutta, had decided to try to compromise the other leaders by taking them out for a night on the town. Dave kept it low key and declined but Priemsy was in full flight and with Brendon and Benny were out to the wee hours of the night. Brendon also enticed Peps to an Espresso Martini which he quite enjoyed and was saying that it is a very manly drink indeed!
The next morning Priemsy was right as rain however and had a very decent start for the final day of play. The rain started and stopped and Priemsy was joined by Dave who extended their early lead, who was hitting bombs in the middle of the fairway and sinking putts from everywhere.
There was mass confusion on the back 9 however as the course management had rearranged the hole numbering on the back 9 due to maintenance, but failed to inform the Ivanhoe group or provide the updated cards. The club pro drove around the tried to explain things to keep everything flowing from the 11th hole.
B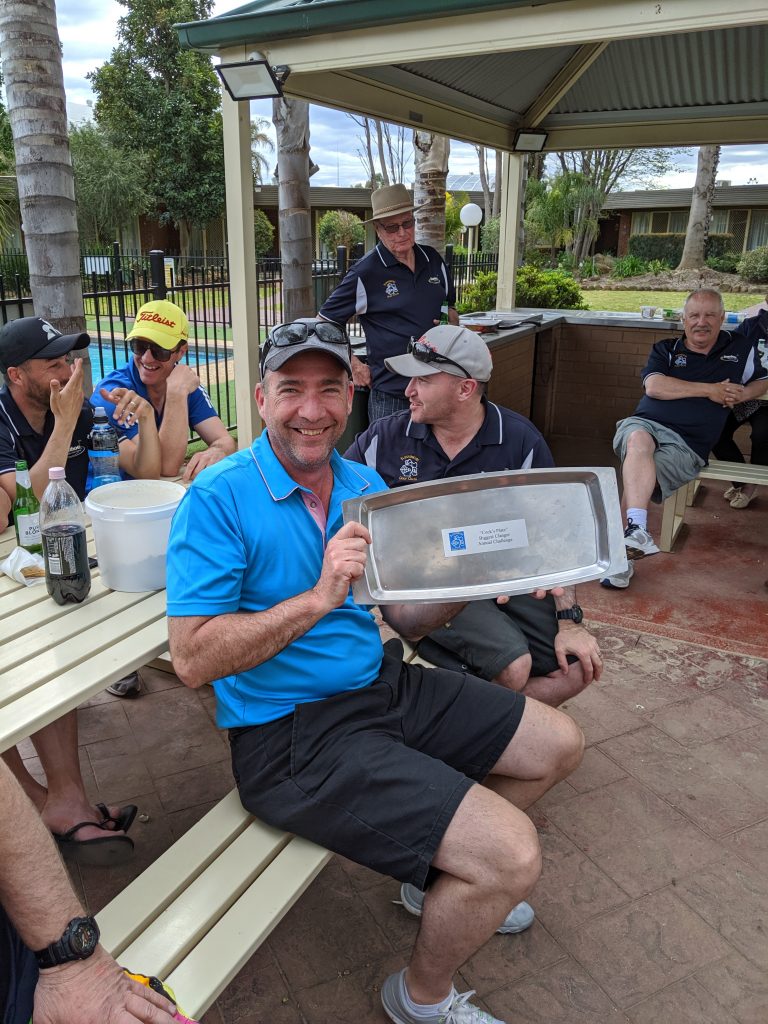 y this stage, Priemsy was starting to tire and soon the wheels fell off. Porks was doing the opposite and birdied the 10th, 11th and 13th to fall only one behind Dave for the lead. It was neck and neck for the last few holes and porks extended to a two shot lead and held off the last 3 holes for the win, with an even par back 9 off the stick! Dave held on for second place, and Bob came from a few back for 3rd place with a very respectable 39 points.
Chrispy and Noods tied for 4th after noods shot equal best score for the day, and SOS scrapped in for 5th place. The Cock's plate was awarded to Matty who combined with his efforts with his club's on Saturday, he also managed to break one of hit iron shafts on the Sunday. There were numerous nearest the pins for both days and too many to name them all here.  Overall it was a successful weekend and good times had by all.
Results for Annual Challenge 14 and 15 September 2019
1st Ryan Porker 78 (39+39) 2nd David Mullenger 76 (40+36) 3rd Bob McDonald 75 (36+39) 4th Chris Priems 74 (42+32) 4th Stephen Butterfield 74 (35+39) 5th Stephen O'Sullivan 71 (37+34) Seniors Results: 1st Bob McDonald 2nd Gordon Hill 3rd Allan Davies
Ivanhoe Results (Courtesy of GOATM)
The mandatory 6 players for competition was exceeded by one and 7 members turned out on a bright sunny spring morning at Royal and Ancient Ivanhoe. Peter played the 13th three times, first from the 1st tee, the second time from the 10th tee and we thought when he finally got to the 13th tee we would see him realize his desire to hit the fairway three time in a row, only to see him trudge off to the 10th fairway!
Despite this, Peter posted a solid 36 points for the morning to take out his first win for some time, so well done Peter. A big welcome back to Saturday play to Rod Grant, and he was right back into the fray taking second place on his own with 32 points. There were whispers that Rod was on song with his driver and placing immense distance pressure on Simon off the tee.
The pressure of being outdriven by Rod may have been why Simon put his shot into that tiny little bunker on the 13th, only then to hit it out of the bunker into the hazard, take a drop and promptly hit it back into the hazard again ! But, with 31 points Simon did manage to come in third in a three way tie along with Whitey and Craig.
Craig's golf was a bit interrupted by spending quality time helping Peter and Dennis locate wayward balls, but it was a lovely morning for a bit of extra nature study. Whitey took a couple of holes to get going, but fired up on the 4th with a nice chip in for a big fat bird and a fine 4 points to add to the tally.
Peter hit the green on the 12th and took his putt from that far out we had enough time to have a cup of tea whilst waiting for the ball to travel across the green and drop in for a very fine bird, to bring the mornings tally of birds to two. Joe and Dennis bought up the rear of the field to take fourth place points with 27 points which was made up by a smattering of gashes, ones, two's and three pointers to grab 27points, although probably more gashes and one's in there than anything, but, did we mention what a wonderful spring morning it was ?
Ball hole NTP's were Peter on the 12th, which he then one putted from what seemed like 100metres away for birdie, and Simon on the 18th which he then 3 putted from what I hear was not that far away for a bogey ! Rod's return to Saturday golf saw him take out the seniors with 32 points, ahead of Simon and Craig on 31 points and Dennis in third on 27points. As usual, the mornings golf ended in brilliant sunshine with good banter and merriment . . . how good is golf !
Results for Saturday, 14 September 2019
1st Peter Damou (37) 2nd Rod Grant (32) 3rd Simon Powell (31) 3rd Craig Cameron (31) 3rd Rod White (31) 4th Dennis Ward(27) 4th Joe W 5th No one else!
Seniors Results: 1st Rod Grant (32) 2nd Simon Powell (31) Craig Cameron (31)3rd Dennis Ward(27)
Nearest the Pin Results: ProPin15th Jackpot BallPin No 1 12th Peter Damou BallPin No 2 18th Simon Powell