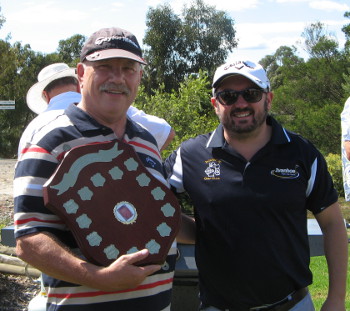 The weather gods once again looked down favourably on the 23 members and two lifers that turned out to honour the memory of Stuart Clarke on the final day of his Memorial Event.  There was a fair sprinkling of hawaiian shirts and President John declared that if there was a prize then it should go to Targe even though it was one of his 'dress' shirts.  Brendon was resplendent in his blue Club shirt and many agreed that it could be counted as outrageous.  With the weather so favourable and the course dressed within an inch of its life, it was to be expected that there would be some good scoring to be had.  The competition tally of 16 birdies however suggested that things didn't necessarily go according to plan.
But, there were some good scores and the one to take the day and the Stuart Clarke Memorial Trophy was for 40 points and that was combined with 37 points last week to give a total of 77 points to Allan which should be more than enough to do some damage to his handicap at Yarrambat next week.  Rodger is going to make very sure that it does.  Rodger didn't put his card in but if reports are to be believed he could very well be looking for strokes back as a result.
Despite all the hoping that Joe's new family addition would arrive early and distract him from the task at hand, it was not to be and the arrival will be next Thursday as planned, just in time to spend time with Dad watching the US Masters and getting the feel of his first putter.  Good luck with that one Joe.  Anyway, Joe put in a pretty fair round this week following on from his leading performance last week to take the points, if not the trophy, with a total of 74 points for the event.
Pepsi tried valiantly to make up the gap from last week and went very close to pulling it off.  If only he had been able to keep up the pace that he set on the front nine where he produced nothing under a two pointer, 2 strokes under the card and a total of 22 for the nine.  The long walk from the 9th to the 10th seems to have affected his game and the back nine did not really come up to the same standard.  The Beast was right up amongst it from last week and he had to deal with the strain of playing his match with Bob but he was able to do enough to come in in 3rd place with a total of 70.
Harry was just outside the top rankings last week and he put in some practice rounds at a number of courses along the Murray during the week.  Another round of 34 points slotted him into fourth place with a total of 68.  And finally for the points allocation, SOS, Chrispy and Brendon rolled in with a grand total of 66 points apiece.
The BallPin today was on the 4th and it ended up being a no-contest as Eddie put his name on the card playing in the first group and nobody else in the field was able to get inside him.  The first ProPin was on the 12th again and it played almost the other way around with nobody getting on until one of the last groups when Joe was able to get within 2 m to collect some cash to go towards a set of clubs for the new-comer.  The Beast made a meal of the second ProPin on the 18th which did go down to the last group and put it to 1.1 m of the hole.  He also made the birdie to break Bob's heart and win the Matchplay which had been a close run thing for the whole round and could almost have gone to a chip-off.  This could explain why it took Bill and Bob about ten minutes to finalise their scorecards while everybody waited impatiently for the presentations.
In other matchplay results, Matt was able to despatch Ryan on the last hole when Ryan 'choked' and shanked his approach shot and generally made a fine mess of the hole.  Shank you very much, said Matt, as he took the match 1 up.  Gordon couldn't putt to save himself (his words) and ended up going down to Whitey at the 16th, 3 and 2.  There are still a few first round matches to go so there will have to be some serious action next week to get them out of the way before the deadline.  Players still in for the second round can arrange their matches any time from now on.
RodG was hitting his shots from the tee pretty well all day but on the very last hole he had something of a rush of blood to the head and chunked it seriously to finish not more than half way to the red tee markers.  This was the only draughtie report for the day but there could have been more.  In one case, Noodles was seen to throw his club further than the ball had travelled but this might not have been from the tee.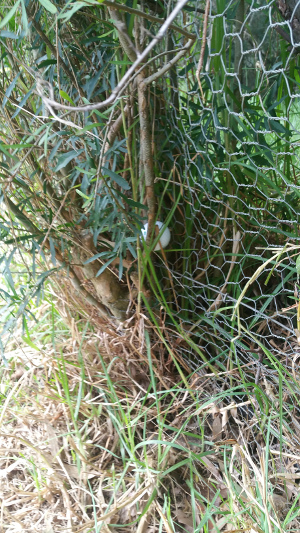 Now, the Beast has been known to pull off what might be termed 'miracle' shots and he has been known to channel prominent professionals for guidance as to how to play a particular shot.  It is hard to say who you might want to call upon for this particular lie from his tee shot on the 8th but wire-cutters and a machete come to mind.
The Priems family are famous for their strategic use of the greenery around the course to keep their game on track.  This was shown, never more clearly today than through Rob's effort on the 3rd.  His ball was heading for the river and Dight's Falls almost for certain.  Until, that is, it struck a tree and came back into bounds.  Though, only just, according to Rob.  On the other side of the 'luck' coin, Targe ran his tee shot on the 15th within millimetres of the hole and had it stop about 300mm past.  Naturally enough, he tapped it in for the easiest of birdies.  Matt racked up a few birdies today as well and on holes that counted for the Eclectic and he has now jumped up into second place and is within a point of Bob.  It must have been a mixed round for Matt as he was complaining about how many balls he had lost.
Blighty also got himself in among the bushes today.  He made his back-swing just a bit too high and the club-head got tangled in the branches and he completed his downswing without the club in his hands.  Does that count?  Gordon claims that, as well as his putting abandoning him, he was also gutted by Whitey racking up a four pointer on the first hole and then repeating the performance a few holes later.  At least they weren't five pointers!  Or even White Pointers!  Though he could have been sharking it!
Keith was back with us today after an extended break and he is looking forward to playing more regularly again.  Welcome back Keith.
Results for Saturday, 25 March 2017
Stuart Clarke Memorial Winner Allan Davies (37, 40, 77),1st Joe Wagenecht(39, 35, 74) 2nd Andrew Petricola(36, 37, 73) 3rd Bill Eastoe(38, 32, 70) 4th Harry Boughen(34, 34, 68) 5th Stephen O'Sullivan(35, 31, 66) 5th Chris Priems(29, 37, 66) 5th Brendon Mitchell(36, 30, 66)
Seniors Results: 1st Bill Eastoe (32,38,70) 2nd Harry Boughen (34,34,68) 3rd Rod Grant (29,34,63)
Nearest the Pin Results: ProPin No 1 12th Joe Wagenecht ProPin No 2 18th Bill Eastoe BallPin 4th Ed Kloprogge