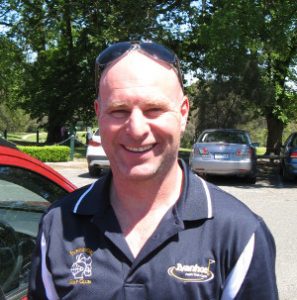 Who said that the members didn't like playing Par competition?  Given that this was the third week in a row (thanks Fred) the turn-out of 23 members was pretty impressive.  It was a bit cool to start off but, when the cloud cover burned off, it warmed up nicely and turned into a delightful Melbourne Spring day.  Could be just the time for a racing Carnival you could almost think.  Come to think of it there is some sort of a horse race coming up shortly.  Something called the Vin O'Meara Stakes if memory serves correctly.
As predicted a little while back, it wasn't long before Jason appeared on the top podium spot.  A bit like the day, it took him a while to warm up and it was six holes into the round before he first entered positive territory and he just managed to stay there at the turn with the card showing just one up.  The back nine obviously suited him as he squared six and won three to finish the day with a field-streeting +4 points.  The handicapper took an axe, and gave his mother forty whacks, and when that job was nicely done, he gave poor Jason, forty-one! Figuratively speaking, that is.
Harry looked to be in a good position to emulate what Jason achieved.  That is until Pepsi asked how he was going on the 14th green.  The wheels immediately developed a nasty wobble and the plus four at that stage was almost eliminated by the end of the round.  Still, second place and a slightly positive card meant that the handicapping was relatively painless.  Harry was joined in second place by Rob who did himself out of a point on his card by not checking the handicap sheet before he went out to play.  Rob started off well and was well placed at the turn but dropped a fair amount of engine oil on the last three holes.
So, that left Noodles and John tied up in 3rd place with their square cards.  John was very well balanced and squared both nines while Noodles finished with one each way.  Joe was hitting the ball really well and squared well over half of the holes but the losses outnumbered the wins and he was only able to finish the day one down. Michael spent a lot of the day worrying whether his supply of tees would last until Christmas.  Apparently he is on Santa's Nice list and he is expecting a big stocking-full from the big fella.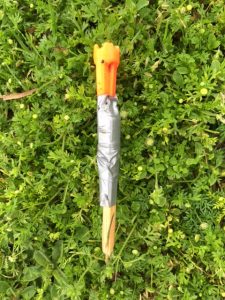 Michael hasn't quite descended to the level of desperation evident in this pic from a couple of weeks back but one tee today went close to needing some sort of additional support to be usable on the next hole.  Ryan mostly either won them or lost them so his performance might best be described as steady but erratic.  But then, he scores points, and that is what counts in the end.
Fifth spot today was filled by a couple of Seniors by the name of DennisW and Simon who both managed to come home just the two holes down.  Now Simon has been away on a road-trip and there are often reports of funny stuff happening on road-trips.  Not sure whether it was the after effects of funny stuff but Simon marked his partners card back to front (marker on the left, player on the right) which had the handicapper scratching his head for a while as to how the scoring could have been so wrong.
The BallPin today was on the 15th and Pepsi did a good job to put it on but left a bit of work to do with the putt.  But, putt it he did, for one of the 16 birdies that were carded for the day.  It wasn't enough to win the ball however as Joe managed to put it closer to score himself a nice new pill to play with next week.  He didn't get the birdie though.  The ProPin was set for the 18th and with the pin set close to the start of the swale to the lower level it was a tough target.  So tough, in fact, that nobody managed to put it close enough to make a claim and the pool will Jackpot to next week.  Rob and Chris are a bit disappointed as they will be at Mansfield next weekend.  Chrispy has at least three rounds lined up for during the week so he is hoping for the 'old' Chrispy to be back before next weekend.  He was heard saying that he gave up on the back nine today which is hardly the attitude when preparing for a Major event such as Mansfield.
DennisT has some time off from his role at the Darklands and he hasn't had much time for practice but he thought that today was a beautiful day for a walk.  Pepsi was keen to get away to Flemington and the hope is that his punting will treat him better than his rather rusty form did on the golf course.  He didn't have any hot tips to offer but he thought that there might be a few fillies worth having a look at.
There was a Magpie patrolling the area around the 18th and it seems that Jason went close to spiflicating it and turning it into a Hawk (some sort of football analogy?).  Stefan had his driver tuned up today and caused some consternation in the group in front when he went close to driving the green on the 5th and then lobbed one over the corner on the 10th right into their midst.  While it can be hard to know exactly where people are when they are out of sight, they definitely shouldn't be out of mind.
Simon managed to score one of the birdies today on the 17th, which he put down to 'good golf' and it was one of the highlights of his round.  One of the highlights of his road-trip was being tapped on the shoulder by security at his hotel for practicing chipping on the courtyard lawns.  He did get in 25 minutes worth of practice though.  Maybe that helped today.
Mal was back today after a little while away due to the cold and some health matters and he shared a cart with Trev to guarantee that he could finish the round.  His playing partners thought that he was hitting the ball really well in light of his claim that he hadn't played for over a month.  What they didn't realise was that he was referring to Club Events and that he has been making an appearance on Thursdays with Rod and Harry.
There weren't any draughties reported today though Zimmer did manage a few shanks which caused him to throw a tantie or two.  Bob was also less than happy with some aspects of his game today and was apparently giving lessons in new ways to blaspheme in the English language.
The Birthday Birdie will be busy this week with a number of lots of good wishes to hand about.  Celebrations are in order for Mark, Rodger and Damo.  Don't party too hard fellows!
Results for Saturday, 29 October 2016
1st Jason Hopkins(+4) 2nd Harry Boughen(+1) 2nd Robert Priems(+1) 3rd Stephen Butterfield(□) 3rd John Quinlan(□) 4th Michael Gourlay(-1) 4th Ryan Porker(-1) 4th Joe Wagenecht(-1) 5th Simon Powell(-2) 5th Dennis Ward(-2)
Seniors Results: 1st Harry Boughen (+1) 2nd Dennis Ward (-2) 2nd Simon Powell (-2) 3rd Malcolm Fleming (-5) 3rd Rod Grant (-5)
Nearest the Pin Results: ProPin 18th Jackpot BallPin 15th Joe Wagenecht