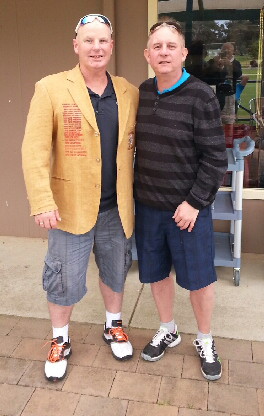 Nineteen intrepid souls ventured onto the course at Numurkah over the weekend.  Eighteen were Club members and one was a partner.  Something of a first for the event and surely a sign of a certain maturity pervading the Club.  And what is more, Hayley, ChrisV's lovely wife managed to show a few of the members how to handle the course and finished just about right in the middle of the field.  There was a suggestion that we could have been two ladies playing but Targe's wife Nerille was unable to be persuaded to chance her arm against Targe, or was it the other way around?
The couch on the fairways was pretty brown, it being winter and all, but it was still good to play from and certainly didn't form the basis of an excuse for some of the scores.  The mounded greens did pose a bit more of a problem and it took a while to work out a workable approach technique to get the ball onto and to stay on the putting surface.  But once there, the putting surface was terrific and a lot better than the somewhat bumpy tracks that we have become used to.  The other aspect of the course that came in for comment was the amount of run to be had compared to Ivanhoe at the moment and the tighter more heavily treed aspect of the course also caused some grief from time to time.
Saturday was cracker from a weather point of view.  The sun shone brightly and the temperature was easily in the twenties.  A few people put in early claims for the title of contender and there were three or four within a few points so that an interesting contest on Sunday was pretty much assured.  And there were a few likely types a bit further back in the pack so that a late burst to prominence was not entirely out of the question.  For others though, there was a need of a major train crash to incapacitate the field for them to have a chance.
A number of people entered the local Saturday Comp and a couple of balls were handed out, one for a second place and one for an encouragement award.  Much to the chagrin of at least one member, all of the names and scores were posted on the club scoreboard. Chrispy was involved in a conversation with one of the local lady members about the poor unfortunate who had only managed to accumulate 17 points in the round.  Must have had a really bad day he opined as he sidled away so as to avoid having to reveal that it was he who had fared so badly.
As it turned out, it was one of the pack rats who really came to the fore when it counted and Rob managed to show true form and leap to equal first place with his total of 70 points (29 and 41) with Allan (34 and 36) so that a count-back was required.  With a five point margin on the day, it was not at all surprising that Rob got the nod and was presented with the highly acclaimed Mustard Jacket from the outgoing Champion, David.  David has been caretaker of the venerated cloth for two years, after last years event did not eventuate and he wore it to Friday night dinner with great pride.
Third place in the event went to David who tried valiantly to score the coveted back to back wins and although he improved on Day 2 it was not enough to catch up on the first two place getters.  For the record, Damo was the leader after Day 1 but his deft touch failed him a little and he could only manage to come home in 4th place alongside Gordo who did a bit of sledging at dinner on Saturday by offering Damo a pack of Butter Menthols.  Maybe this was an effective ploy.
There were some ancilliary events over the weekend as well.  There was a secret six event that was won by Allan.  There were a couple of nearest the pins and, given the reported difficulty in getting onto the green, it is possibly a bit surprising that they actually went off.  But, go off they did, and Brendon and Noodles were the lucky winners.  The ProPin was placed on the short 18th hole and Saturday went by and nary a ball had stayed on the putting surface.  After much discussion it was decided that the cash would carry over to Sunday and that it would be nearest, regardless of distance to ensure that it did actually go off.  There was even a suggestion to make it nearest in two if all else failed.  As it turned out, the honour went to Whitey who claimed it was the only decent shot he had made out of 215 that he took over the weekend.
The trees certainly played a part in this but there seems to have been an extraordinary number of draughties over the weekend and in one group three of the four suffered the fate.  Harry was a victim of the trees on the 9th but his didn't qualify as a draughtie as it was only the ladies on the next door 6th tee that he was almost, but not quite, in front of.  There were even discussions to suggest that one player took several shots to get past the ladies tee but it does seem that one of these was long and out of bounds and the penalty was included in the count.  Something of a moot point it seems.  Not only were there draughties, there was at least one airie and it was Pepsi who owned up to that.  Not a bad effort for a bloke on his handicap.
Mehmet, started out as if he was going to have a blinder and with 17 points after seven holes he reckoned it was the easiest course he had ever played.  Then this peculiar buzzing sound got into his head and the wheels promptly fell off in a big way.  And the buzzing sound continued for the rest of the weekend and could still be heard on the 18th on Sunday.  Whether the same sound contributed to Pepsi's failure on several holes is a point that would need to be investigated further.
It is not clear whether ChrisV was more concerned about the prospect of being beaten by Hayley or whether their house would burn down because the heating system had been left turned on.  Just to be sure on the latter point, after the game Hayley drove all the way back to Melbourne to turn it off and then returned to Numurkah in time for dinner at night.  They assured us that it wasn't to save money from the heating bill and Mehmet was adamant that it would have been cheaper to have left it on.  Certainly the car fuel bill would have been considerably lighter.
There was a bit of a crowd gathered by the 18th green watching the field come in, including Chrispy who shouted fore and watch out to the assembled crowd, somewhat in jest, only to be narrowly missed by an incoming ball himself.  Talk about the boy who cried wolf.
Noodles gained some sort of notoriety by managing to turn a birdie putt into an eight but perhaps not as much as by turning up to dinner in his best 'Farmer Wants a Wife' outfit just because there was a 21st birthday party going on in the Club house.  While on the clothing front, John was resplendent in a pair of trousers that could be best be described as lairy in a nice shade of red and was described by SOS as being a victim of circus pants.  Brendon was seen strutting round in a puff jacket in a similar shade and doing a fair imitation of the Michelin Man.
There was footy on in Numurkah on Saturday and at one stage Chrispy was discussing the possibility of only playing nine holes and going and playing in the Magoos.  With the oval just across the road and apparently a number of junior games being run simultaneously there was a pretty much continuous barrage of air horns being discharged.  Ryan formed the view that every time he was lining up to putt or in mid-stroke he was put off by a siren blast.  Nothing like that on Sunday though when two shots from the tee ended up in the front yard of a house across the road only a metre or so apart.  Nothing if not consistent.
Needless to say, there were a range of alcoholic beverages consumed during the afternoons, evenings and nights.  Such consumption might or might not have contributed (or detracted from) the playing form of some members.  Besides various craft beers and the almost compulsory Jimmy and Coke (the Club ran out on Friday night) there was some cider being consumed as well which gave SOS the opportunity to repeat several times that his favourite brand was Dickens Cider (whatever that might mean).  Definitely been injected with 'pun serum' our SOS.
So, a good time was had by all.  The gardens around the accommodation huts should thrive with all of the attention that was lavished upon them over the weekend.  The Golf Club management were welcoming, attentive and generous to a fault and there is no reason to believe that this will not be a venue that we will return to in future excursions of this nature.
Results for Saturday, 22 August 2015 Annual Challenge
1st Rob Priems(70 c/b) 2nd Allan Davies(70) 3rd David Howard(66) 4th Damien Lee(62) 4th Gordon Hill(62) 5th John Quinlan(61)