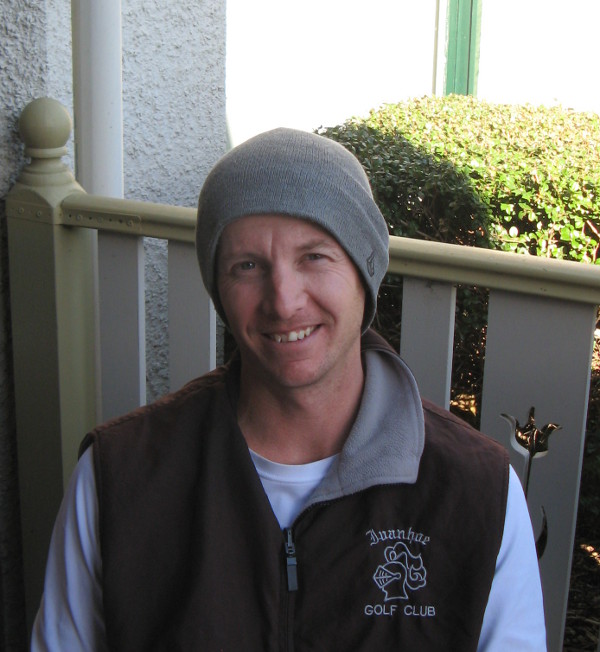 Twenty-three brave souls went over the top and twenty-three souls came back though there were some who were wishing that maybe they hadn't gone over the top.  But, despite the downcast faces on some, there were those who were smiling and those who could quite easily have done a bit better.  The air temperature started off a bit on the fresh side and the BOM had promised something of an icy blast but thankfully that seemed to have held off though the wind did start to get a bit flukey towards the end of the round.
Now, would you believe that Noodles was one of the ones that could/should have done better than he did?  Well, it seems that he did have a great chance, having taken a two stroke penalty for teeing outside the markers on the 7th and he still managed to gather a point on the hole.  He also managed three birdies and as there were only nine scored for the day he obviously made a fair fist of the rest of the round to rack up a grand total of 40 points.  Down, down, the handicaps are down!
Now that Ryan has finished with handicapping duties, for a little while at least, he is able to concentrate on his golf and did just that to great effect today.  Hopefully it didn't have anything to do with the fact that he was playing with and marking the card of Noodles but, in any case, 37 points was enough to get the points on offer for second place.  Just as an aside, Ryan made 22 points on the front and Noodles made 22 points on the back.
And, just to show that the young ones don't have it all to themselves, Laurie and Harry played right to their handicap to come in third place with the regulation 36 points.  Harry blotted his copy-book on the 17th when his tee shot finished perilously close to the fence along the path by the river.  So much so that he had to play a 'horizontal' swing under the bottom bar to pop the shot back onto the fairway.  Despite that 'good' result he managed to end up with a gash after some very ordinary chipping and putting.
Pepsi put in a steady round with a couple of blemishes to card a still pretty handy 35 points and the man who will just not lie down (or go away) Stefan came in next on 34.  And, claims that he can't play to his new handicap.  Sausage!
So, although the margin has narrowed slightly, Stefan still has a comfortable lead in the Championship table but he can be caught.  After Laurie and Harry, point getters in the Seniors today were Bob and Blighty but Gordon is still a bit in front in this competition.  Pepsi is leading in the Eclectic by a couple of strokes at this stage.  Looking at the colouration of the Eclectic table, it is obvious that the 17th is the most birdie-able hole followed not too far behind by the 14th.  With the recent dearth of birdies, the eagles nest is looking pretty secure and the nest egg is growing.  Almost worth winning these days.
There was one Matchplay quarter-final played today, the last of that round and Zimmer was able to dispose of Whitey without too much difficulty 3 and 2.  Zimmer took an early lead and, try as he might, Rod was never really able to put enough together to peg him back.  So, now it is down to four and just three of them will accumulate some points for their trouble.  Keep listening for more details of the forthcoming 'Rumble in the Jungle'.
The nearest the Pin for a ball on the 4th seems to have been a no-contest as the first person to tee off on the hole put it to 1.6m just a bit past pin high and there it stayed for the rest of the day. So, one more ball to Harry's collection.  The ProPin on the 15th was a bit more of a contest with a couple of names on the card but Eddie was victorious once again and collected the cash.  Not sure what it is, but Ed's name seems to feature on the ProPin record an awful lot.  Maybe it is the smell of money that fires him up.
Now, for those of you who have been asleep for the last eight (and more) weeks, a trial of a competition known as the Ivanhoe Golf League has been running.  The rules, fixture, teams and results are posted on the web-site under the Competitions menu item.  Just this once, today's results and the League Ladder are reproduced below.  Obviously, the more team members you have along, the more chance you have of getting the scores that count though that didn't help the Magpies today as they had a full list and still went down to the Saints
Ivanhoe Golf League Weekly Results  As at Saturday, 30th May 2015
Results for Round 8
Home Team
Player 1
Player 2
Score
Away Team
Player 1
Player 2
Score
Hawks
Andrew Petricola
Andrew Blight
66
Tigers
Stefan Belevski
Dennis Ward
63
Saints
Stephen Butterfield
Harry Boughen
76
Magpies
Ryan Porker
Bob McDonald
70
Bulldogs
Damien Lee
Allan Davies
56
Blues
Laurie Mannix
Kazim Akdag
66
Ivanhoe Golf League Ladder  As at Saturday, 30th May 2015
| | | | | | |
| --- | --- | --- | --- | --- | --- |
| Team | Wins | Losses | Draws | Forfeits | Points |
| Hawks | 5 | 2 | 1 | 0 | 33 |
| Andrew Petricola | Gordon Hill | Andrew Blight | John Quinlan | Taner Kemal | John Angelopoulos |
| Tigers | 5 | 3 | 0 | 0 | 30 |
| Keith Delzoppo | Brendon Mitchell | Craig Cameron | Stefan Belevski | Mark Berthelsen | Dennis Ward |
| Saints | 4 | 4 | 0 | 0 | 24 |
| Harry Boughen | Rod Grant | Stephen Butterfield | Stephen O'Sullivan | Michael Gourlay | Trevor Jackson |
| Blues | 4 | 4 | 0 | 0 | 24 |
| Laurie Mannix | Chris Priems | Rodney White | Chris Vinecombe | Kazim Akdag | Robert Priems |
| Bulldogs | 3 | 4 | 1 | 0 | 21 |
| Damien Lee | Mehmet Akdag | Craig Sharp | David Howard | Allan Davies | Paul Rowland |
| Magpies | 2 | 6 | 0 | 0 | 12 |
| Ed Kloprogge | Bill Eastoe | Targe Mifsud | Ryan Porker | Bob McDonald | Malcolm Fleming |
There were some contrasting results off the tee today.  On the 13th, Stefan managed to drive his ball the full length of the fairway, going on 350m, the only minor problem being that it finished on the 10th.  But then Stef had the hide to suggest that he really should have had the courage to go over the hazard on the left to try for the green.  In contrast, there were two draughties today.  Taner had a few attempts as the day went on but he finally succeeded on the 17th while Blighty only had to wait until the 16th to achieve his landmark..  The effort obviously made Andrew hungry as he was tucking fiercely into a pie and sauce after the game with somebody's lap-dog watching in anticipation of a drop of gravy or a few crumbs – all to no avail as it disappeared down the cake-hole.
Taner was minding his own business on the 17th watching the Beast play a shot when the ball was shanked something fierce and it whizzed past his head, not in any real way of a threat but close enough.  The errant ball then hit a tree and flew back, just missing Taner again on the rebound and came to rest almost a the feet of the Beast.  Now Bill did say that he was channeling Bubba Watson for some of his shots today but it seems highly unlikely that Bubba has ever played any remotely like some that came off Bill's club.  Needless to say, the Beast did not feature high in the rankings today.
After having his recent form talked up in recent weeks, Mal seems to have gotten out of the wrong side of the bed this morning and even went so far as to tell Gill that he didn't think he was going to do too well today.  Talk about a good way to put the mockers on yourself.
Not sure whether Bob is supporting the Maglia Rosa in the Giro d'Italia or Breast Cancer Awareness Week, but he was seen sporting a very fetching pink mobile with an equally fetching pink and white flowered cover.  When asked to pose for a photo for the blog, the response could not be repeated in polite society.
Results for Saturday, 30 May 2015
1st Stephen Butterfield(40) 2nd Ryan Porker(37) 3rd Harry Boughen(36) 3rd Laurie Mannix(36) 4th Andrew Petricola(35) 5th Stefan Belevski(34)