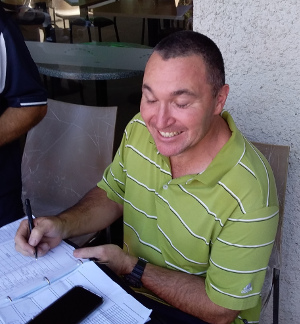 GrandPar was the game and golf was the name. Or something like that anyway for a paltry 11 members who fronted up to deal with a soggy course after recent stormy weather. There was some hot scoring with double plusses on offer but with 8 pluses and a double plus, SOS reigned supreme with a nett score of +5. There were no reports of shanks but pure ball striking and putt sinking for most of the round.
Porks also started like a house on fire and was 5 up at one stage but with an errant drive OOB on the 13th, was brought back to earth and ended up with a respectable score of +3 for second place. There was some confusion with Targe's card and SOS was left counting and recounting afterwards but ultimately a bogie does not warrant a double plus no matter how many shots you have so ended up being relegated to 3rd place on +2.
3rd place was also shared with old reliable Craig and the new old reliable Keith who was driving them down the middle all day with the exception of a couple of rainmakers. This included a chip in birdie on the 15th for a double +. Craig was elevated after a misreading of the handicap but with his score for the day drops down again.
Rob Primo Pres continued some decent form with a 4th place finish with two double +'s along the way, which almost ended with 3 as his tee shot on the 18th finished a couple of metres from the hole. With some on lookers from the hill and some kind encouragement from Chrispy who pointed out that the putt was for another double, he choked and left it merely millimetres short of a birdie. Nevertheless it was good enough for the ball prize so not all is lost.
A trifecta finalised the points positions as Stan, Gordon and Chris all played to their handicaps. Gordon and Stan also had double +s along the way and the total double count ended up at 8 along with 9 birdies. Chris almost joined the group with a monster curling putt down the hill on the 13th which looked almost certain to drop but it ricochet off the pin, spun around the hole and popped out!
The second ball hole was on the 15th and Craig was good enough to be the closest. The pro pin was eagerly anticipated as it was a triple jackpot on the 12th. There was a marker quite close from the first group and it was none other than birthday boy Bobby McDonald. What is a golf writeup without mentioning Bobs buggy troubles but again Bob was witnessed pushing his clubs around after another failure, however it was suggest that he should spend the propin jackpot on a new electric one. Bob's birthday milestone this week is the big 80 which is a terrific milestone and something to be celebrated with a couple of fruit tingles for sure.
That leaves only two players who did not score points for the day. At least Bob won some cash so you could say the only loser for the day was CJ! There was a reported drafty from Stan on the 4th but no others were reported.
Reminder again to register for the matchplay tournament, Harry will be fixing the player list next week if there are some missing. It would be good to see some more numbers down for the monthly medal next week also.
Results for Saturday, 29 January 2022
1st Stephen O'Sullivan (+5) 2nd Ryan Porker (+3) 3rd Craig Cameron (+2) 3rd Keith Delzoppo (+2) 3rd Targe Mifsud (+2) 4th Robert Priems (+1) 5th Stan Blackshaw (□) 5th Gordon Hill (□) 5th Chris James (□)
Seniors Results: 1st Craig Cameron (+2) 1st Keith Delzoppo (+2) 1st Targe Mifsud (+2) 2nd Gordon Hill (□) 2nd Stan Blackshaw (□) 3rd Bob McDonald (-2)
Nearest the Pin Results: ProPin – 12th Bob McDonald BallPin No 1 – 15th Craig Cameron BallPin No 2 – 18th Robert Priems