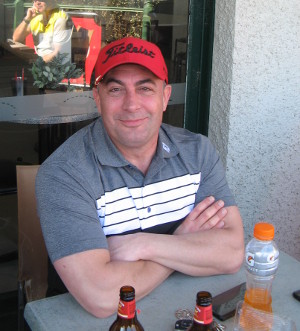 Australia day long weekend, sunshine, barely a breath of wind, no could ask for a better day on the golf course. There was also some high scoring and as it turns out, it was a battle of the Habibs with Benan and Stef handing in scintillating cards with 41 points each. Stef also managed to go around the course in PAR, scored a run of 4x 3's from the 2nd to the 5th, blasted a 3 wood off the tee on the 11th to 4 foot to slot an eagle and basically took the course apart. Maybe he was trying to impress his mates who he was playing with, which included George and Kazim who have not been around for a while. Benny also had 5x 3 pointers and 2x 4 pointers and did all this by wearing an even tighter shirt than usual. Very impressive. He also topped his drive on the first which is a regular occurrence of late.
There were reports that Dale was going alright early on and he did in fact have a flyer with 23 points on the front 9. He battled hard to bring it home with 40 points at the end of the day and outright second place. Rob was seen sporting his new Collingwood themed golf bag and it didn't do him any harm as he played some great golf all around for 38 points. He was also joined by none other than Keith who seems to enjoy the warmer course conditions.
Targe continued his good form and although he is coming off two wins in a row, it did look like it could be 3 from 3 at one stage. If it was another day it may have been the case, but the competitive field restricted him to 4th place and an equal share of the club championship lead. Not a bad effort Targy after your layoff last year, hopefully you can make use of your lower handicap from now on. He was also joined by Damo in 4th who has been looking for a horse to buy on behalf of the club, there goes the money for next year's punters club trip. Speaking of horses, Noodles was having an up and down day but slotted his birdy putt from just off the 18th green for an even card and 36 points for 5th place. There were a heap of guys missing out on 35 points, unlucky.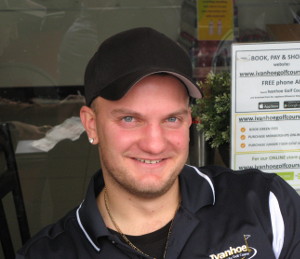 There was a bit of confusion about the ball and pro pin holes again today. The 12th was relatively straight forward and Kazim hit a nice shot for a shiny ProV. The 15th was marked as pro-pin, but so was the 18th. Simon had the lead on the 15th with the ball marker a few metres from the hole, but no distance measurement were taken. Simon lucked out as Matt and Damian were close to beating him, but it was decided that the 15th would stand as the pro pin so he came away with the cash. He also slotted the birdie, of which there were quite a lot for the day (18 and 1x eagle). The 18th ended up being a jackpot for next week even though a few ended up on the green, it could not be determined who was closest. There were no reported drafty's for the day, although the front tees seemed to be in play for most of the holes.
Ryan had a chance of an eagle putt on the 11th too, but ended up with a bogie! His group with Noodles, Targe and Steve ran into a hazard on the 13th green which was in the form of a swarm of bees. They were circulating for quite a while but it did not deter Targe as he swatted a few away as he was walking through to get to his ball. He was later heard complaining that he was stung, but he got a few of the buggers along the way (his words). Along with Stef's eagle his group were playing for skins, and reports were that he took home over $100. Noodles split his pants and had to run off after the 9th to find a new pair. Somehow there were no tears in Benan's clothes as he was spruiking "supplements" for the guns after the round.
Friendly reminder that the Jarrod Lyle Charity Challenge is only 2 weeks away, please get behind the event and register before hand for a great day to be had.
Results for Saturday, 26 January 2019
1st Ben Akdag(41) 1st Stefan Belevski(41) 2nd Dale Webb(40) 3rd Keith Delzoppo(38) 3rd Robert Priems(38) 4th Damien Lee(37) 4th Targe Mifsud(37) 5th Stephen Butterfield(36)
Seniors Results: 1st Keith Delzoppo (38) 2nd Targe Mifsud (37) 3rd Simon Powell (35)
Nearest the Pin Results: ProPin15th Simon Powell BallPin No 1 12th Kazim Akdag BallPin No 2 18th Jackpot
Eagle's nest Results: Eagle 11th Stefan Belevski