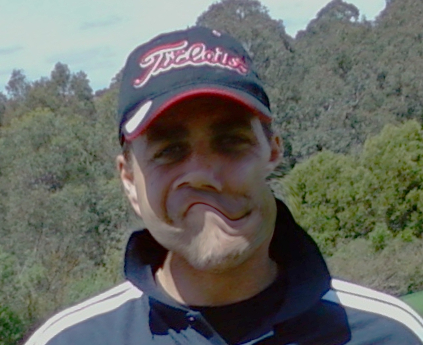 Well despite the fact that there were a few standing around before the game shivering like the proberbial cat passing razor blades, it turned out to be a reasonable day though the umbrellas did get unfurled a couple of times.  The rain of recent days has softened the course a little so not quite so much run and the greens have brightened up with their recent dusting and a bit of a feed to take advantage of the one and a half warm days that we have had.
The conditions obviously suited the fearless leader once again and undaunted by the recently acquired 3 handicap he took the course apart to return a two under round for 41 points and in the process acquire a 1 handicap.  The thing about it was that he complained the whole round about how poorly he was connecting with the ball and was heard to urge the same shot to slow down and hurry up as it trickled to gimme distance.  That and how he never plays well when he plays with Noodles.  If Pepsi keeps this up methinks we will have to re-introduce plus handicaps.
Brendon and Mo the Persian Patriarch were not far behind with 39 points.  Mehm has ambitions to catch Noodles in the Championship table but if his equal 3rd place-getter Gordon keeps this up his lead will shortly become unassailable given that there are only a few weeks of competition left for this year.  Trevor at 4th has been appearing in the placings on a fairly regular basis in recent times and Krispy filled the last of the point scoring spots.
We managed to rack up 13 birdies today with six of them on the 17th.  Pepsi certainly tried hard for his Eagle there from just off the green but pulled up just a bit short.
A big welcome back to Craig who seems to have recovered from his recent work injury well but reports of WorkCover helicopters and photographers in wheelie bins could not be verified.  Although his scoring wasn't the best he still managed to score by taking out both the ProPin on the 12th (Double Jackpot – thank you very much considering he didn't play the previous two weeks) and the ball hole on the 15th.  Perhaps we should take a swab to test for performance enhancing drugs.  Can anybody whistle?  Fortunately for Trevor, he remembered to put the markers out this week.
Ben was also back after some time out to pasture.  He must have fallen on hard times and run out of his supply of Grecian 2000.  There were two doubles on the course today and I'm not talking about the bets Pepsi and Noodles were contemplating if they happened to jag the ProPin.  Ben and Jan had to shout for Mehm on the 3rd and Tony and Eddy also racked up a performance to shout about on the same (but different) hole.  It seems that there is no statute of limitations on Shout Shots because Ben's was his second shot after the first went OOB.  Not sure whether it was the same hole as the Shout Shot, but Eddy had a second shot end up 10m behind where he teed off from.  Harry also scored a tree dead centre with his second on the 10th but only ended up 10m behind where he hit it from.
Rodger must have been too cosy under the feathers this morning and only arrived in the Car Park about when the first group were teeing off.  Poor Allan was sweating on Rodger to share his cart and was on the verge of abandoning hope of playing.  Some frenzied scritching and scratching by Krispy rearranged the groupings to accommodate the late registrations.  Speaking of Krispy, his putt on the 2nd apparently hung on the edge of the hole for 9.8 seconds before a worm pushed up a casting and rolled it into the hole.  But for that he would have had to share 5th with four other hopefuls.
And, last but not least, Noodles, the golden headed boy of but just a few weeks ago didn't have such a good day and was noticed to take umbrage with his equipment on a couple of occasions.  If there had been goal posts, one occasion might have scored him another six points.
Next Saturday will be social only for those not going to Bendigo and the following week will be the November Monthly Medal.  Hit them long and strong in Bendigo and see you all back at Royal Ivanhoe on the 10th.
Results for Saturday, 27 October 2012
1st Andrew Petricola(41) 2nd Brendon Mitchell(39) 2nd Mo Sabih(39) 3rd Mehmet Akdag(36) 3rd Gordon Hill(36) 4th Trevor Jackson(34) 5th Chris Priems(33)