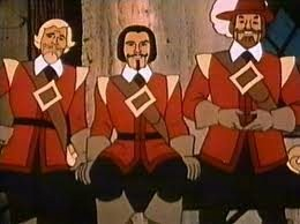 The sun was shining, the birds were singing and the whole world was happy – except maybe for Harry who was banned from playing due to a case of sciatica that was still under repair.  In other words, it was a beautiful day for golf and, if the scores are to be believed, some beautiful golf was played.  However, some of the stories suggest that there were still quite a few points left out there.
A couple of weeks back, it was opined that Jason was not long for keeping his 21 handicap.  And today there was little to suggest that his new handicap will be around for the long term.  When asked at the 5th, his response was that it was his worst round ever and by the 8th he was four points and four balls down having given the trees on the front nine a right royal time of it.  Following Noodles suggestion that he should duck into the pro-shop to see if they still had balls on special, Jason played like a man possessed and carded plusses on the next eight (yes – eight) holes, scrambled a bit on the last two for squares to finish with +4 for the day.  Just wait until the lessons really take effect.
But, Jason wasn't alone.  Gordon was in a masochistic mood and, after last week's whipping by the handicapper, put his hand up for another lashing this week.  The fact that he had to share the honour was only due to the two lonely gashes on his card.  Simon has been bewailing the fact that he can do the back nine in 36 during the week but never on Saturday.  Today, he proved that that is not the case and his sub-80 round also put him on the winners dais, also with +4.  Simon was spotted retrieving his 'inside' card (+7 no less) to take home as a memento of the feat.  The mid-week rounds seem to be paying off.
Now Noodles reckons that staying on the fairway is worth eight strokes.  Well, he must have stayed on the fairway today because he was right up there with the best of them but a little hiccup on the 18th for a miss robbed him of a place on the top spot, either shared or on his own.  Maybe it was an after effect of Jason's run of plusses or his 'miracle' square on the 17th that got to him. Or maybe it was the bevy of dog-walkers passing on the shared path just behind.  Still a +3 ain't bad and there is no winners penalty.  Trevor also didn't make too many mistakes today although one of his putts did draw a disparaging comment from Bob.  Rob was in the same group and entered a very similar card, at least as far a points scoring went but that doesn't mean they were fighting.
Dennis was another one who took the first nine holes to warm up and at the turn things were looking a bit shaky to say the least.  But, despite sporting paint under his fingernails and up his arm (there is a DIY thing going on) he did a fine job on the back and managed to come home with two on the right side of the ledger.  On the other hand, Chrispy reckoned he felt like a pro after a one client night (don't ask how he knows what that is like or even what he meant by it) with his third placing score alongside Dennis.  He was apparently going OK despite blaming, loudly and often an 'air pocket' in his glove.  However, when he found a brand spanker in his bag and put that on his mitt, he didn't score nearly as well.  Just goes to show, if it ain't broke, don't fix it.
The Beast has been lurking in his lair and hasn't featured much of late but he let it be known that he was alive and kicking today.  Though he only managed to garner 4th place today, his +1 score card included 3 birdies that helped his Eclectic along and contributed more than somewhat to the total of 15 birdies that were carded today.  No eagles though.
The first group was just three players strong and they must have had their skates on as they were finished by 1100 and a good 30 minutes in front of the second group.  Pepsi was one of the members and perhaps he had to dash off to an important meeting (race?).  Still, even if he was in a rush, he managed to play right to his handicap for a square card.  Also lining up for the last point on offer was Ryan.
All in all, it was a good day at the office for Jason as he managed to put his ball closed enough (3.2m) on the 12th to take out the cash for the ProPin.  Hopefully, he counted it as it was passed hand to hand with the advice to 'take some and pass it on'.  Rod was a bit unhappy about 'just' missing his birdie on the 18th after getting his name on the ticket for the BallPin.  Unfortunately, there was no consolation prize as he was taken out by 'lucky' Gordon or was that Gordon 'lucky'.
There were a couple of draughties today.  Opinions varied about the distance that Bob's travelled from the 16th tee and the methods used to estimate that distance mostly can't be repeated in polite company.  Whatever the actual distance or the measuring method, opinion is that any contact between club and ball must have been very minor.  Last week, the Beast put his drive from the 17th to within half a metre of the hole and he had his picture published to mark the feat.  When asked to pose for a similar picture after his drive on the 17th, Blighty refused on the basis that the ball was less than half a metre from the tee rather than from the pin.  Go figure.
Just as Noodles was preparing to drive on the 16th a person, described as having legs up to her armpits, alighted from a car in the adjacent car-park.  For some reason, Noodles swiped left and his ball went right – over onto the 14th fairway.  On the sartorial front, it seems that Bob might have been inspired by 'The Shark' if the rather sharp straw hat that he was sporting is any guide.  Whether this translates to better golf remains to be seen.  Brendon also caught the fashionista's eye with the comment that he must have been up early and got dressed in the dark.  Maybe the pink was just to match his eyes although the effects of the after breakup party should have healed by this.
Now, let it be known that the Annual general meeting of the Club is scheduled for next week after the March Monthly Medal.  Reminders have been a bit thin on the ground for which an apology is due, Ryan should have been given a heads up.  Still, some are obviously aware.  All Committee positions are open for contest and Nomination Forms are available from the website under Forms.  Please get a form and have it filled in before the meeting and let the Secretary (Blighty) know of your intentions as soon as possible.  Whilst we can take nominations from the floor, it is desirable to have things in place before hand for efficient running of the meeting.
The registrations are open for the Annual Challenge weekend in August and the deposits should be paid into the Club Account as soon as possible.  The account details are in Gordons dodger and on the website.  If you are not in it, you can't win it (the Mustard Jacket, that is).
The matchplay draw will be set after next week's round.  The field will consist of those financial members who have not opted out and who have played at least one round in the last six months.  Seedings will be based on the average (adjusted) strokes taken in your last three rounds with the defending Champion holding first seed.  If there are fewer that 32 eligible players, first round byes will be distributed in seeding order.  If there are more than 32 eligible players, seeds above 32 will be nominated as emergencies for the first round.  The first round has to be completed before or on the date of the April Monthly Medal.
Results for Saturday, 25 February 2017
1st Gordon Hill(+4) 1st Jason Hopkins(+4) 1st Simon Powell(+4) 2nd Stephen Butterfield(+3) 2nd Trevor Jackson(+3) 2nd Robert Priems(+3) 3rd Chris Priems(+2) 3rd Dennis Ward(+2) 4th Bill Eastoe(+1) 5th Andrew Petricola(□) 5th Ryan Porker(□)
Seniors Results: 1st Gordon Hill (+4) 1st Simon Powell (+4) 2nd Trevor Jackson (+3) 3rd Dennis Ward (+2)
Nearest the Pin Results: ProPin 12th Jason Hopkins BallPin 18th Gordon Hill