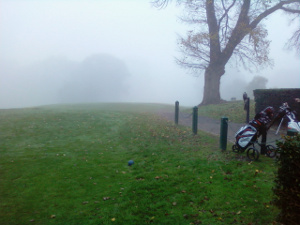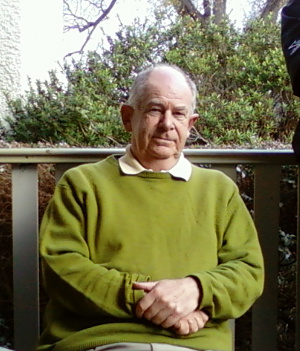 Last week, we had the frost and ice to deal with.  This week the fog and mist.  Not sure which was the worst but some opted to volunteer for the last group to try to avoid the worst of it.  Not sure that it made a huge difference looking at the scores that came in from the last group.  Apparently, there were a couple of lost balls on the first.  The course is still a bit damp in places and so the relief rule was in place once more and that perhaps helped some more than others – or maybe they just played better.
One person who did play better after a few weeks away keeping the ruffians at the Darklands under control was Dennis who looked more than a little concerned when Mehm announced a winning score of 44 points but, fortunately, it was just Mehm's warped sense of humour.  Well done Dennis, the points have given you a nice little boost up both Championship tables.
Hot on the heels of Dennis was RodW who has been lurking in the background for a while now and is starting to gather a few points.  Gilbert wasn't too far behind and scored third spot on his own after a calculation error on Mo's card dropped him down to join Targe in 4th spot.  Zimmer and Noodles filled the last of the point scoring spots.
There were a fair swag of Seniors who scored points today – Dennis (3), Mo and Targe (2) and Mike, Trevor and AndrewB (1).
Nobody else managed to break their handicap today but there were one or two calculation errors on the cards.  So please, chaps, take a bit of care and be sure to cross check where you get strokes and agree the calculations with your marker.
As well as coming in second on the scoring front, RodW did pretty well in other areas as well as he got his name on both the nearest the Pin and ProPin.  This doubling up seems to be getting to be a common thing.  Poor old Jack had to hand over the cash that he was holding from last week so the stakes won't be nearly so high next week.  The birdie tally was 17 which is pretty good and they seemed to be pretty well spread around.  Nobody seems to have scored an eagle though there was a rumour that somebody might have gone close.
Mostyn and Sinan put in their third cards today and they now have an official Ivanhoe handicap.  Welcome to the Club boys.
One person who didn't go close was Craig who set a new record for short putting by moving the ball by less than a centimetre.  Craig reckons it was an accident.  Damo must have been doing it tough as he reckoned he had handed the Championship to Oliver by the 13th.  Oliver didn't make the points though so the status quo remains at the top though there have been some moves further back that have potential to affect the result at the end of the year.
The moves to set up our GolfLink membership are under way and once this weeks results have been entered by the Club House, the membership transfers will begin and you will be notified by e-mail of your new GolfLink number as soon as it becomes available.  You will receive a new membership card in due course.  In the meantime, note your new number and use it to check your scores and handicap on GolfAccess and for entering competitions.  Those of you who are not nominating Ivanhoe Men's as your Home Club will retain your existing membership number.  New GolfLink members will receive a new handicap according to the rules of the official handicapping system.  The Ivanhoe Men's competitions and handicapping system will continue as before.  However, if you wish to have scores entered into the official system when you do not play the inside competition, you will have to keep a card with your official handicap and your GolfLink membership number.
Results for Saturday, 29 June 2013
1st Dennis Tiernan(43) 2nd Rodney White(42) 3rd Gilbert Demiri(40) 4th Targe Mifsud(39) 4th Mo Sabih(39) 5th Kazim Akdag(38) 5th Stephen Butterfield(38)