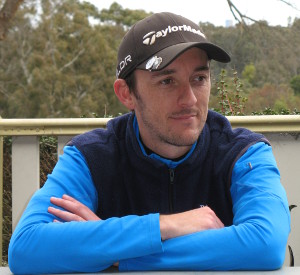 Whether it was the Friday night footy or the Champions League or just a night out on the ran-tan but it seems that there must have been a few sleep-ins today.  As late as 0715, the field was still looking pretty darned skinny and it was only a last minute rush that managed to get the numbers up to a half-respectable 15.  Apparently there were supposed to have been 16 but one of the sleepy-heads didn't surface until 0830, by which time it was a bit late to even make the effort to get to the course.  You'll never win the Championship that way, Mehm!  Even without a win on the cards again.  There was a bit of mist in the air early on and the air was a little chilly though there were a couple of reports of a warm patch down by the river.  There wasn't a politician or a balloon in sight so if it was real it must have been a natural effect and we are assured that it had nothing to do with Chrispy's favourite French Impressionist.
There was a bit of wild-life out on the course other than the usual avian denizens that crap all over the greens or that steal your hard earned nibbles from your hand.  The course is apparently alive with Poke-Mon and one avid hunter seemed blissfully unaware of the hazards of wandering around a golf-course with his face stuck firmly into his i-Phone.  SOS classified him as a sus-loiter, which is police-speak in case you were wondering.  There was also a fox spotted and Noodles got rather excited by the prospect until he realised that it was the furry four-legged variety rather than the other sort.  But, apparently, it looked rather well fed, perhaps feasting on some of the aforesaid avian denizens and it seemed quite unconcerned as it wandered across the green and held up play briefly as the group waited for the green to be cleared.
Now, ChrisV hasn't been able to play a lot lately what with his concerns about Hayley and the prospective bub.  Chris reports that all is still in place and the prospects for a favourable outcome are improving day by day.  The whole Club hopes that the situation continues to improve and that the happy event is indeed a happy one.  Hang in there Hayley from all of us!  So, today, Chris did hang in there as well.  His playing companions reckon that he put on a master-class in all aspects of the game but particularly for putting on the front nine in which he garnered most of his points and matched the par for that part of the course.  Not that the back nine was that bad but there were a couple of minuses that brought unkind suggestions that he had either a need for the Butter Menthols or that he was protecting his handicap.  The +6 from a round of three over par is still a great result in anybody's language
The Beast was another one that played a round of two halves and if he had kept up the pace that he set on the front he could easily have challenged for the top spot.  In the process, Bill managed a couple of birdies and so contributed to the total of seven carded for the day.  One or two very near misses could easily have added to that total.  There were only a couple of improvements on the Eclectic table today and Brendon still has a small margin over second place while the rest of the field have a bit of work to do.
Now, Chrispy has a bit of a lead on the Championship Table and he is very keen to keep his eye on Brendon and to keep the Kiwi honest.  So it was today that as tee-marshall, Chris arranged for Brendon to be in his group and also connived to mark Brendon's card.  All seems to have been fair and above-board even though Chris did manage to place in front of Brendon for third place with a score of -1.  He didn't have that spot to himself, however, and he had to share the adulation of the crowd with SOS and Targe.  There weren't any official draughties today but there is a strong suspicion that SOS could have had one on the 15th.  His playing companions were so convinced (or so thirsty) that they spent (SOS estimates) ten minutes searching behind the red markers and found no less that seven balls but not one that could be ascribed to having been owned by SOS.  The Magistrates Court would throw the case out for lack of evidence, according to SOS.
Chrispy's bid to keep Brendon out of the points was only marginally successful and Brendon and Gordo managed to secure 4th place with a tally of -3 points.  They were closely followed by Noodles, Harry, JohnQ and Whitey with -4 points apiece.  And, despite the admonitions that they should be ashamed to collect points with that sort of score, they have no qualms at all about accepting whatever is on offer.  John did offer that he was surprised, both by his score and the fact that he got a point, after playing so badly.  For those of you with an arithmetic bent, you should be able to discern that, of the fifteen players contesting, only four were not included in the points table.  It's been a while since we have had that sort of percentage on the podium.
The Nearest the Pin competition today saw the ball up for grabs on the 4th and a lot of the shots seemed to be pretty well astray.  A couple of people did manage to get onto the green from the tee and Whitey was victorious with what he claimed was his best shot of the day.  The ProPin was on the 18th and it ended up being a bit of a non-event after CraigC put it to 2.32 metres and in so doing closed out all players in the following groups.  Not a great divvie but a welcome relief from an otherwise ordinary day.
Harry managed to find himself in a similar position on the 17th to that of last week (hopefully it's not a trend) and, after last week's successful extrication, a similar shot was in order.  This one didn't come off and the ball finished in an even more difficult spot.  The next and several subsequent shots produced similar results and a well earned gash for the hole.  Lo and behold, Dennis put himself into a spot at the back of the green with his second and virtually repeated the performance.  Perhaps stupidity is contagious.
Gordon put his second just onto the green on the 9th and decided that it was too far from the hole to putt so he opted to chip the ball.  Fortunately no green-keepers were watching and he didn't take a divot but, unfortunately, he left the ball quite a bit short of the mark.  Unperturbed, Gordo slotted the putt for his par.  Oh, what a player!  Gordo also saw fit to congratulate Blighty for a great shot to the green on the 7th.  The only problem was, it wasn't Andrew's ball.  It belonged to the Beast.  Oh well, one golf ball does look rather like another from a distance.
Not wanting to seem to be picking on Gordon but after the game he settled down at the table with his drink and potato cake when he remembered that it would be polite to retrieve the Treasurer's bag from the office.  So, he ordered his 'twin brother', Targe, to go and get it.  Targe responded, 'So, I'm the youngest, so I have to wear my legs out first?'  And everybody thought his legs were already worn down to the stumps.  Targe might be putting some surplus baby capsules on the market in the near future.  He reckons that they are unused except for transporting grog home safely from the bottle-shop and he assures that they well suited for that purpose.
Blighty 'dropped' his putter on the 14th and, despite the wet condition of the ground around, when it was recovered there was only a bit of mud and a couple of drips on it.  Except, of course, for the big drip on the grip end of the shaft.
This report is hard to believe but there is a suggestion that Ryan is 'lying down' (and the quote taken from his own mouth) to get his handicap out for Numurkah.  Now, why would anybody do that?  The committee can always handicap 'on suspicion'.  Chrispy doesn't have a problem with his new handicap.  Though he did have a bit of a whinge early on about how hard he had been dealt with after last week's result.  But, after nine holes on the new mark, Chris was busily imagining how it would be to play on a plus handicap, things were going so well.  As somebody once said, Pride cometh before the fall, and things went awry fairly smartly after the turn.  Still, he did beat Brendon!
The Birthday Birdie tells that one of our ex-members will be celebrating this week so, if the Turkish community can send a big birthday wish to Ben, the BB would really appreciate it.
The numbers have been rolling in for the Annual Challenge in Numurkah and Gordon assures that there are still places available.  He'll probably put out a program of events sometime soon but please don't hold back just because you don't know what loot is up for grabs.
Next week is the August Monthly Medal and, for the hungry ones, there will be the double divvie on the ProPin.  Still only $5 comp fee though.
Results for Saturday, 30 July 2016
1st Chris Vinecombe(+6) 2nd Bill Eastoe(+1) 3rd Targe Mifsud(-1) 3rd Chris Priems(-1) 3rd Stephen O'Sullivan(-1) 4th Gordon Hill(-3) 4th Brendon Mitchell(-3) 5th Harry Boughen(-4) 5th Stephen Butterfield(-4) 5th John Quinlan(-4) 5th Rodney White(-4)
Seniors Results: 1st Bill Eastoe (+1) 2nd Targe Mifsud (-1) 3rd Gordon Hill (-3)
Nearest the Pin Results: ProPin 18th Craig Cameron BallPin 4th Rodney White