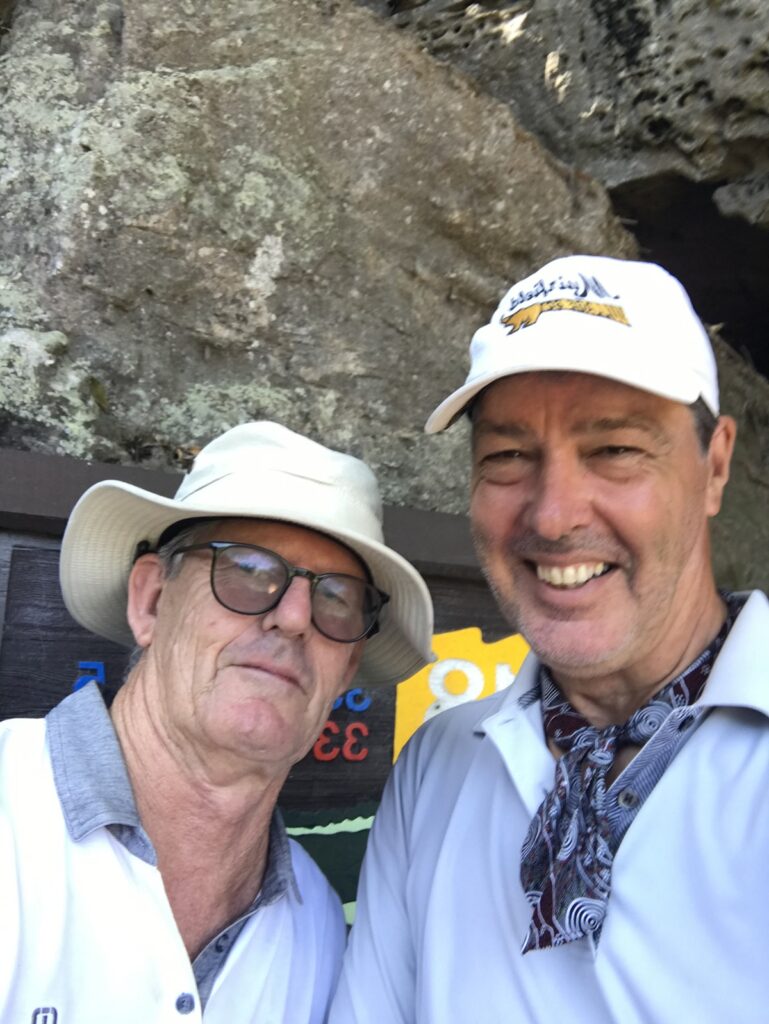 It was a great day of golf at Ivanhoe Golf Course on 25th February 2023, as the Grandpar competition brought out players of all skill levels to compete in a social golf event. The competition was fierce, and the results were exciting with some fantastic scores. The weather was warm and overcast, making it an ideal day to hit the green. The 3rd hole had healed enough to use the normal green, so players could enjoy a full round of golf. There were 17 members plus guests John, who put in his second card and Yusuf who also put in his first card for the club. Welcome guys and hope to see you both around the club this year.
Gordon was glowing after the round, mainly because he was on fire from hole one as he posted a score of +10 which must be some kind of record for a par competition. This did not include any double pluses or birdies, just a lot of pars and a very consistent performance. He was inspired by lefty who was a player he played with at Nowra GC recently who only had one arm. Gordon had only 26 putts which included 3 on a single hole. A fun fact about golf: an average pga tour pro hits 32 putts on average for 18 holes! 
Two players tied for second who were none other than Bob and Stephen, both carding plus 4. Just behind were Craig Cameron and Robert Priems who both recorded a plus 3. The battle for fourth place was also tight with Kazim, Jonathan and CJ Priems all finishing on plus 2.
Bob said he had gone "alright I suppose" while Kazim made a triumphant return to the game after a lengthy hiatus. Jonathan wasted no time in scoring points with his first round with his handicap, which included a triple plus with a birdie on the 8th.  James, Andrew and Ryan all put in impressive performances ending with plus 1 who rounded out the points scoring positions. 
The ProPin on the 15th was won by Mr Jackpot who was infinity meters away.  BallPin No 1 on the 7th was won by Robert Priems who hit a nice cut which took a bounce and rolled up pin high. BallPin No 2 on the 18th was taken out by James Hale with a nice shot that ended a couple of meters away.
Targe took a tumble after last week's success when his ball hit a tree on the 2nd and went sideways, ending up behind the red markers. Playing partner Brendon wasn't faring much better with his shot on the 2nd with an unlucky bounce off a tombstone sent the ball back 20m for a another drafty for their player partner porks. 
To top it off, Targe and Bob managed to score a couple of birdies by rolling their tee shots right up to a flock of ducks, resulting in them taking out the 'birdies' with minimal force. SOS called out the exact events prior to Targes tee shot.
The fun continues at Ivanhoe Golf Course next week with our Monthly Medal competition.  After the round, we'll be having a BBQ to celebrate the day's results. The committee decided in their meeting on the weekend that we would be having a few more BBQ's this year to make use of some excess funds in the bank. These dates will be updated on the calendar in due course. The matchplay draw was also determined on the weekend with Craig drawing names out of a hat shaped envelope. These will be posted on the website during the week for those who were not in attendance on the weekend. The top 4 seeds from last years comp all have a bye for the first round.
The Annual General Meeting (AGM) has been moved to the 1st of April so make sure to mark that date in your calendar too. There are a couple of empty positions available so please think about your plans if you would like to join the committee for the next year.
Results for Saturday, 25 Feb 2023
1st Gordon Hill (+10) 2nd Bob McDonald (+4) 2nd Stephen O'Sullivan (+4) 3rd Craig Cameron (+3) 3rd Robert Priems (+3) 4th Kazim Akdag (+2) 4th Jonathan Lau (+2) 4th Chris Priems (+2) 5th James Hale (+1) 5th Andrew Noble (+1) 5th Ryan Porker (+1)
Seniors Results: 1st Gordon Hill (+10) 2nd Bob McDonald (+4) 3rd Craig Cameron (+3)
Nearest the Pin Results: ProPin – 15th Jackpot BallPin No 1 – 7th Robert Priems BallPin No 2 – 18th James Hale