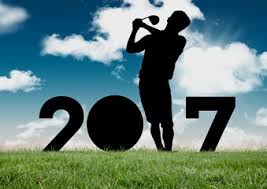 As the clock ticked on towards seven o'clock, Simon was starting to get worried.  He'd been up since sparrow's and at the course nice and early but it was beginning to look as if he would be playing alone.  Had he offended everybody in some way last week was a question that crossed his mind.  No, no more than usual.  It was just that everybody was running a bit behind schedule and in the end, Simon had seven playing partners to choose from.  And as he was the tee marshall for the day, he chose DennisW as one on the fairly reasonable basis that he had never played with Dennis before.  Quite independently, Dennis was moved to comment that he had never played with Simon before so two oversights were rectified in one fell swoop.
Now DennisT has really got the darklands out of his system though he is complaining that he has to go and watch women's cricket next week and won't get to try out his new found form at the Monthly Medal.  Just to prove that his handicap breaking form last week was not a fluke, he went out this week and really smashed his handicap.  And, after having had a little whinge when told that the competition for the day would be Par, he went out and showed that it didn't matter anyway and turned in a card with plus 6.  The handicapper would have had a field day with a card like that.
SOS made it along today after a week off after the break-up party.  It seems that he was one of the group that kicked on at the pub afterwards and he was involved in what he reckons would be a first.  Chrispy and he were refused service and asked to leave Dan Murphy's.  You'd have to wonder who was driving?  Anyway, SOS is now over his hang-over and was able to keep his head down to bring in the next best card with one point on the plus side.
Damo is itching to take advantage of his mid-season break and is building up quietly for his lunge at the medal next week.  He was reported to be driving like a demon all day and managed to play to his handicap with a square card.
The ProPins today were on the 15th and the 18th.  The greens proved elusive again today and the 15th was left bare although Dennis Darklands did run his through to finish just a few centimetres onto the second cut.  So the dosh was jackpotted onto the 18th which also proved to be difficult to stick a ball onto.  The other Dennis looked to have a very good chance from the tee, but his, too, had just trickled onto the verge and it was left to Noodles to get one actually on the green even though it wasn't particularly close to the pin.  The way Noodles looks at it, sixteen dollars is way better than a poke in the eye with a pointy stick although he did lose the envelop at one stage until a kind person pointed out that it was missing.
Targe hit his tee shot on the 9th into the trees to the left and the ball was found well back into the 'garden bed' after what must have been a fairly solid ricochet.  Harry reckons it was a close run thing as to whether it was actually in front of the red markers but a surveyor would have been required to extend the line through the trees and shrubbery.  DennisW also went close to not making it past the front markers on the 15th and it required some careful alignment to determine that he had made the grade by not much more than a hair's breadth.
The front group thought that Noodles must have been playing with a cricket ball rather than a golf ball when his tee shot from the 17th made such a resounding splash into the water in the pond.  On the same hole, Darklands assessed the fairway to be clear and played his shot to miss Targe by a fairly narrow margin.  The curvature of the earth obviously meant that Targe was below the horizon well before everybody else.  Now Targe has had his little chipping iron for something like ten years and when he bought it he was advised that he should use it like a putter.  Targe started doing just that on the last three holes today and he found that it works a treat.  Who said he was a slow learner?
DennisW is well known for his 'antique' driver but he did some work for a mate up in the country who rewarded him with a 'few dollars'.  As a result Dennis is about to get himself fitted for a new club (or maybe more) so watch this space.  The only problem might be that he will hit them even further 'out of sight' like he did today on the 2nd where diligent searching failed to find a ball that should have finished in plain sight.  SOS is reported to have suffered a similar fate on the same hole.  Perhaps there is a black hole there somewhere and the balls are disappearing across the event horizon.
So, next week it will be back to business in earnest with the handicapper reaching into his Santa sack to hand out Championship points to those who make it onto his 'nice' list by appearing on the podium.  But, he is also sharpening his knife to deal with those that make it onto his 'naughty' list by breaking their handicap in the process.
Have an enjoyable night tonight, whatever you choose to do.  Chrispy has chosen to slum it in some posh hotel in town while others seem intent on spending the evening watching cage fighting.  Whatever floats your boat.  Let the new year bring you good health, good fortune and most of all, good golf.  Happy New Year 2017!