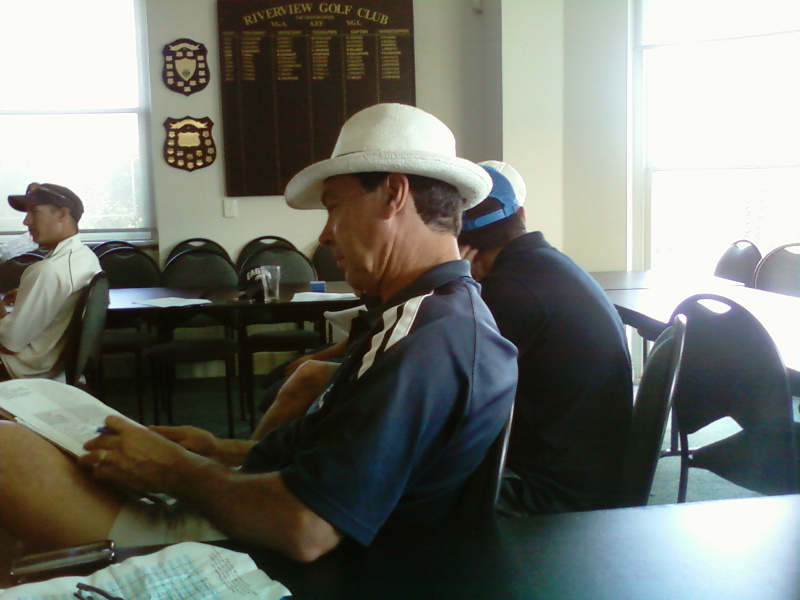 Well, the one day of the year really brought them out of the wood-work.  Of course, there was a lot riding on the results today.  Last chance for a spot in the Champion of Champions, last championship points for this competition year, Calcutta Auction.  All the stars were aligned.
The Prince of Persia, Mo, streeted the field by a clear five strokes with a 61 net and didn't do his handicap any favours for the CoCs and the start of the new competition year.  The suggestion that he hadn't counted his putts was perhaps a little unfair.  Mo's wife tells him that they are flying out next Saturday and so he has had to scratch himself from the Vin O'Meara.  Would his selling price been higher or lower after today?  I guess we'll never know.  Another would be local if he could be, Oliver, came in second with a very creditable 66 and in the process managed to squeeze out SOS and Chris for third place in the Club Championship table with 81 points.  In the process Oliver also picked up some more points in the Seniors Championship but Gordon's lead in that event was unassailable and Oliver had to be satisfied with runner-up.
Speaking of Gordon, he managed to fend off the sledging from his playing partners in the final group and kept his head down to card a net 67 to collect points in both Championship Tables (final totals 97 and 42) and to leap away from Noodles who, unfortunately, didn't improve on his total from last week.  Still, runner-up with 89 points and having played only two thirds of the season is not too shabby by anyones standards.
SOS and Chris also picked up points but all for nought.  Ah well, there is always next year.  Laurie also plugged away, despite being saddled with Rodger, and picked up a point as well.
Brendon scored a ball with the NTP in the 4th for his daughter to chew on while the Calcutta Auction was in progress and Bob picked up the ProPin packet of gold coins for a fine shot on the 18th – the only good one of the day according to Bob.  Bob got his birdie but it seems that Brendon was a long way from gimme distance with his shot, and the one after and the one after ( Sorry Brendon, looked at the wrong hole).  There were 18 other birdies plodded but that elusive big bird just keeps laying her eggs.
At one stage, Targe was heard complaining about not being able to fit his card into his hip pocket.  Not sure whether he has put on weight or just had so much money in his wallet for the Calcutta Auction.  Craig came in quite convinced that his card just had to go on the bottom of the deck and had to check for himself when told that there were quite a number below his spot.  Gordon was also heard complaining about the number of three putts that he took.  Some people are never satisfied though I suppose over 100 Championship points would have been quite an achievement if he hadn't choked so much.
Zimmer was back on deck and was apparently launching his drives about as fast as he used to drive his car.  Lucky there are no speed limits on the Golf Course.
Despite the various bits of confusion about the ins and outs of the modified Calcutta Auction Pool and Fixed Price Pool, it all ended up going very well with Rodger tickling a few fancies with his form guide.  It's going to be a hard act to follow.  The $1500 CAP limit was quite easily exceeded which should mean fairly cheap shirts this year.  It just remains to be seen which jockeys turn up moderately rested and not too hung-over over the next two weeks.  Besides the prestigious trophy, there is also the incentive to get the point scoring for the new playing year off to a flying start with double on offer after the second week.
Results for Saturday, 24 November 2012
1st Mo Sabih(61) 2nd Oliver Gross(66) 3rd Gordon Hill(67) 4th Stephen O'Sullivan(68) 5th Laurie Mannix(70) 5th Chris Priems(70)