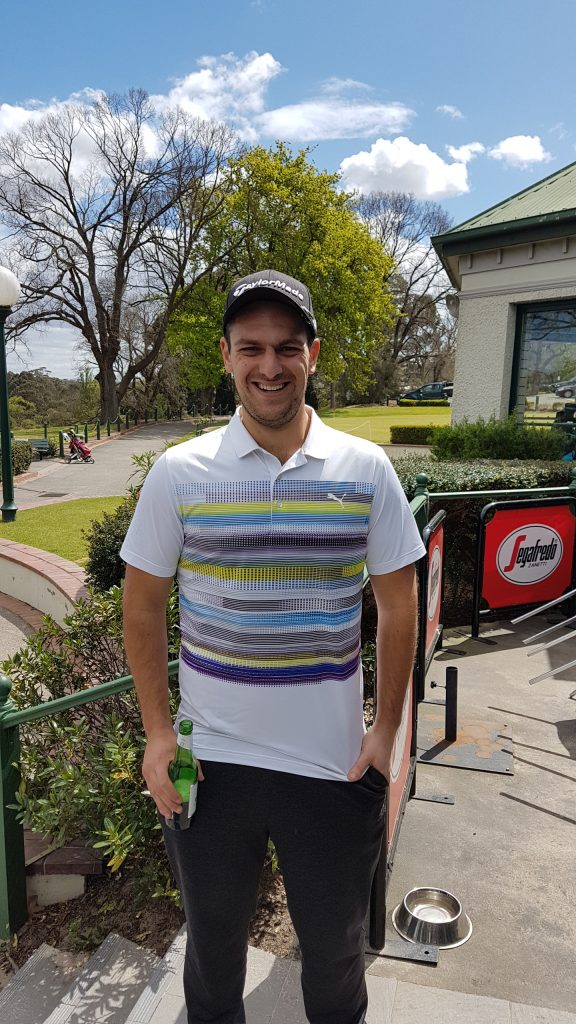 Grand Final day 2018, a fierce contest, a fast start and a bit of rough-housing, and that was all on the golf course for the guys who were able to get away before the afternoons festivities. The Collingwood supporters were notably not in attendance but 14 others enjoyed a nice day out on course. There were rumors that Simon, Jason and Ryan all had hot starts and during the round there were scores at around +6 on the cards however a few fumbles in "time on" resulted in a first win for Peter who ended up with plus 5 to take out his first win for the club.
His round was aided by three double pars, slotting pars on the 4th, 10th and 18th. His new handicap may put a stop to that next time, time will tell. Peter was also keenly eyeing off the remaining groups on the 18th green as he had placed the closest marker for nearest the pin at 3.6m. He was not beaten and was more than happy with his efforts to take out the cash. Ryan started with a topped drive which only just passed the ladies tee on the 1st, but recovered with a hot short game to be +4 after 4 holes. He faltered briefly in the last few holes to drop back to 3 plus to take out outright 2nd, he also birdied the 3rd for a double plus.. Some had inquired if he was possibly keeping a check of his handicap for the weekend away, but he simply sprayed a few tee shots and can't help that he is not Tiger Woods.
Jason was setting a similar mark to Ryan but again faltered on the back nine to end up with a very respectable +2 to come in 3rd place. Noodles, Gordon, Dale and David all played fairly consistently all day and ended up with a square card for 4th place. 5th place was shared by Daniel and Simon with -1. Daniel was lucky enough to score two double pluses, parring the 4th and birdieing the 15th. Simon mentioned that he lipped out on chips a few times throughout the day and it could have faired a lot better for himself if they listening to him. Gordon was also talking to the ball on a few putts along the way, some of which ended up dropping in after his cursing and bemoaning.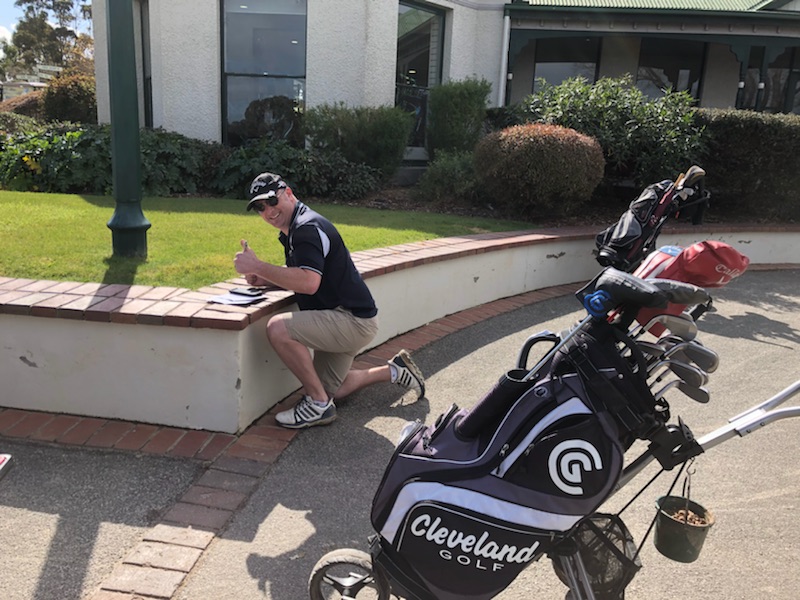 There were no reported draghties however the 4th group came very close, Dennis, Gordon and Ryan all being tantalizing close. The ball hole was on the 12th and Jason hit a pearler to take out a shiny new one for his efforts. The second pro pin was on the 15th and it was a hotly contested affair. Simon was within 5m early on and was counting his cash for the triple jackpot, but Damian spoiled his party by hitting a spectacular shot to 3.2m to take it from his grasp.
Congratulations to Brent who produced a couple of offspring during the week, or contributed to more accurately. Chrispy was very happy by all reports to have a couple of new family members, even if the football result went the other way. A very happy birthday to Trevor for this week who celebrates another milestone.
A reminder that the annual trip away to Rich River is next weekend. There will still be a competition at Ivanhoe for those who are not attending. By all reports there are going to be a few in attendance.
Results for Saturday, 29 September 2018
1st Peter Damou(+5) 2nd Ryan Porker(+3) 3rd Jason Hopkins(+2) 4th Stephen Butterfield(□) 4th Gordon Hill(□) 4th David Mullenger(□) 4th Dale Webb(□) 5th Daniel O'Rourke(-1) 5th Simon Powell(-1)
Seniors Results: 1st Gordon Hill (□) 2nd Simon Powell (-1) 3rd Dennis Ward (-6)
Nearest the Pin Results: ProPin No 1 15th Damien Lee ProPin No 2 18th Peter Damou BallPin 12th Jason Hopkins