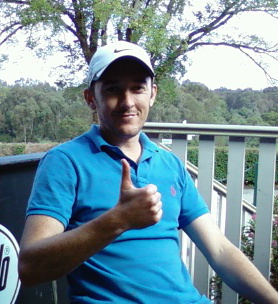 Well, well, well.  Those of you who didn't come along today missed out on the inauguration of the new look Ivanhoe Public Golf Course with its unique island tee on the 2nd and a beautiful running stream in front of the 6th green.  All we need now is a suitable stone bridge and you could imagine yourself somewhere in Scotland.  Just lacking the fine old bluestone clubhouse in the background.  In reality, something went wrong with the control system on the new water management system and now all of the water from the underground storage at the sportsground is now spread across parts of the course.  At least the ducks were having a ball.  But a few people had to resort to one of those extendable ball retrievers to avoid getting their shoes full.
Still and all, there was preferred lie but quite a few of the tees were well back and it made for pretty tough going out there particularly for those that like to get a bit of run on the ball.  As a result the scoring wasn't all that spectacular though there was a not too bad tally of ten birdies from a small field of Club members.  Thank goodness for our two guests, David Quinlan and John Bubis and one tag-along (who might be inclined to return), Marcus.  Speaking of birdies, the Beast would like it to be known that he hasn't birdied the course, the 8th continues to elude him, and the handicapper apologises for his cross-eyedness.
While on the subject of the Beast, while he would surely love to be on a 14 handicap, he doesn't get a stroke on the 17th and so, instead of having two on the winners podium, the outright winner today was none other than ChrisV with a total of 35 points.  Bill's little computational error put him back into second place and given that there had been a gap in the field, that served to rearrange the rest.  And while on the subject of rearrangements, the disposition of the ball-run probably should be corrected as well.  Tsk, Tsk Bill!
Instead of coming in late because he was flying in, Oliver wanted to get away early because he will be flying out but that didn't stop him from gathering some more points alongside Brendon with 33 of the best.  Brendon's round was mostly unremarkable other than a birdie on the 13th that bounced, hit the pin, fell to ground and spun back into the hole.  If Ryan hadn't seen it nobody would have believed it.
Then along came Gordon, who despite a couple of birdies on consecutive holes (followed closely by a PDBSU) managed to garner 32 points.  Pepsi was down from Sydney and, for him, didn't have a great day but managed to still get a point with his 30 points.  Commiserations to those who might have had points but missed out.
ChrisV managed to wrest the Nearest the Pin for a ball on the 4th from Pepsi who had it, a long way short of the hole, until the last group.  Things were even worse on the 18th for the ProPin which was not graced with a signature today so there will be a jackpot next week.  What's the bet that Eddie comes back just for the occasion.  Ed was so concerned about his lead in the Championship Table that he rang Gordo up after the game to see who had won.  Couldn't even wait to read it in the blog.
Ed probably should be looking over his shoulder as there are a few people sneaking up on him in both the Open and Senior Table.  Bill is the leader of that pack but it seems that he is going to head off in September on some sort of Round the World golfing jaunt and somewhere or other he will be linking up with Gordo so watch out the courses of Scotland and the US, you are about to be torn apart (one way or another).
According to all reports John and David are likely to fit right into the Club as there was some first class sledging going on.  Either it was effective or they are running dead as both cards left a bit of room for improvement.  Gordo had a select little group going today to use the game and cart vouchers that were played for a while back, taking the opportunity to make John and David feel more welcome.  They had their moments and the display on the 9th would have not been out of place in a Benny Hill with carts and people trundling back and forth, back and forth.  All it needed was the film to be speeded up and some of that jittery music and we could have been SOSL'd.
Now, for the news that you have all been waiting for.  The one person who had even a remote chance of rolling the leader couldn't play today because he had to be in court.  No, not in the dock – probably because he had the keys to the cuffs on the one in the dock.  So, all it needed was for somebody to put together a mere 42 or more points and they could have wrested the June Bonus Trophy from the grasping hand of Mostyn.  A very respectable total of 115 points over three rounds.  Well done, mate.  It seems that Mozzie was so confident, that he celebrated until all hours over in Adelaide and led numerous other people astray at the same time.  The sun wasn't quite up yet when the night finished.  Some people did improve their position today but the efforts fell well short.  Just goes to show, it pays to get the good ones in early.  Playing catch-up sucks.
Results for Saturday, 28 June 2014
1st Chris Vinecombe(35) 2nd Bill Eastoe(34) 3rd Oliver Gross(33) 3rd Brendon Mitchell(33) 4th Gordon Hill(32) 5th Andrew Petricola(30)