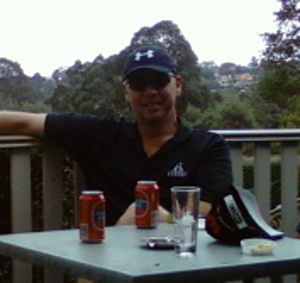 It seems as if there is a curse on the Orange Ball Team event or maybe the pressure is too much for some people.  Once again the majority of groups did not finish with their ball, some opting out as early as the eighth and one group nearly losing it at the fourth.  Fortunately, it avoided the long stuff in the (dry) billabong and could be played and carried on for a few more holes before straying into the creeper jungle along-side the 9th.  The eventual team winners were Damo, Mostyn, Keith and Zimmer with a score of -1 though it was a bit hard to work out who had played the ball on which hole and the stewards were hard pressed to find evidence that the ball that they returned had actually been hit.  Somebody suggested that maybe they didn't take their club covers off when they were using the coloured ball.  MalA needed to play a provisional ball a couple of times and just to keep everyone in the group on their toes he teed up with (you guessed it) a yellow ball!
Perhaps it wasn't entirely surprising then that the main competition winner was none other than Damo who, despite whingeing about getting cut a couple of weeks back managed to break that handicap to be able to have a whinge about being cut again.  Still, even though the greens were still a bit on the sandy side and remarkably fast (just ask Craig – no don't do that unless you've got plenty of time to spare), +2 was enough to win and not hurt the handicap too much.  Damo is also putting in a burst to scale the Championship ladder but he reckons he will just get himself to the top or there-abouts when the cricket coaching duties come about again.
Second cab off the rank was Blighty who prefixed his round with an exposition on how long it was since he had played, hadn't held a club etc etc and then proceeded to cream it down the first and demoralised Noodles in their Matchplay match to be three up after three holes.  Noodles managed to hold him for the remaining six holes on the front but he failed to convert some chances early in the back and eventually went down 5 and 4 on the 14th.  Blighty's +1 overall held the Clubhouse leadership for quite a time but brought him both Championship and Senior Championship Points without too much harm to his handicap.
Ryan played his first round in competition today and just as ChrisV did last week he wasn't slow to open his points tally with a square card and third place.  He certainly makes good contact with the ball and if he can stay on the straight and narrow he could be one to watch as the year progresses.  And all of this while playing with Ed.  One point further back was Mehmet who put together a steady enough round but might have been distracted by his concern for how Noodles was going in his match.  It doesn't bear repeating how Mehm suggested the match result should be reported when he heard the final outcome.
Ed, Kazim, Brendon and Oliver all earned themselves a point by coming in fifth place with -2.  Who'd have thought a couple of stragglers on -4 would have been just outside the points.  So, was the course that hard today or was it the succession of days off work that resulted in a fair number of cards pushing out towards, and in some cases reaching, negative double figures.
Presumably in line with the relatively uninspiring scoring there was something of a dearth of birdies today with a total of 7 all up.  A couple of people made it onto the 4th for the Ball Nearest the Pin and Moist'n'Wet picked up the pill after quite a time out to pasture.  Seems he's only just managed to negotiate himself a leave pass for Saturday mornings.  The ProPin on the 15th went begging  and so there will be a nice little Jackpot in the kitty for next week.  That should bring some of the denizens out of their caves.  Pity there isn't a qualification like there is for the Medal.
There was another matchplay match today and it was a case of youth outdoing experience with Zimmer coming home victorious 5 and 3 over Keith.  With the next three weeks taken up with Medal and Autumn Cup, those left in the event after today's deadline will have to get their ducks lined up quick smart after that.
One of the Clubs former members, Tony Balcombe, came along today to try out his hand on the old stomping grounds and to catch up and talk about old times.  I don't think Tony had the best of it as he was heard to comment that it made him realise why he doesn't play so much any more.  But then again, the rest of us didn't set the world on fire either.
When MalA sprayed one into the hazard on the 12th he asked the (rhetorical) question 'What am I doing wrong?' Reply 1: 'Where do we start?' Reply 2: 'We can't hold the game up that long!'  Talk about using the knife and then twisting it!
Somehow, Craig's inside and outside cards got into the Club mix and when he was handed his inside card, Craig marched off to hand it in at the office.  Obviously spent some time riffling through the comp box looking for the other one before coming back looking more bewildered than usual wondering where it was.  Somebody else who might be looking bewildered in the future is Constable SOS who is apparently going to become a father.  Must be something out there on the course with all this fertility going around.  Grandpop Gordo was busily flashing pics of the new-born around as well.
Whilst on the subject of births, the Birthday Birdie has whispered that Ryan and Whitey will be celebrating an anniversary of just such an event in the next week.
Don't forget to mark it on your calendar and get those leave passes signed off with the Autumn Cup coming up in the two weeks following the May Medal next week.  The holiday weekends are done and dusted for the time being so there should be no excuses.