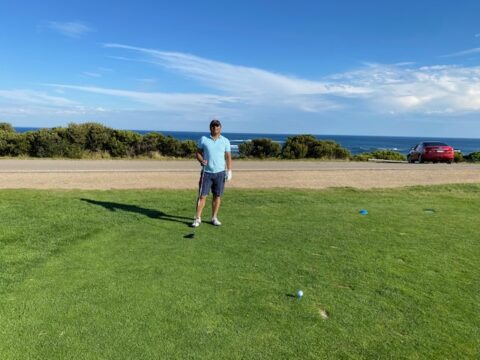 With apologies to Chris James (equal first today) and Targe (Seniors winner today) the day belonged to Raj.
Having endured three weeks of no points, including a very unlucky 6th in the Freddy Kitson (4th each of the two weeks but somehow 6th overall) and stalled on a nervous 98 points with Brendan sneaking up within range, it was a crunch week for Raj as he stepped onto the first tee with Brendan playing in an earlier group and setting the pace.
Both Brendan and Raj work in IT and it is rumoured they had run the numbers through a few Optus computers during the week and come up with a simple formula. If Raj got points this week and matched or beat Brendan, he would be unbeatable for the 2023 Club Championship. Brendan needed to score at least 3 more points than Raj for the week to still be in with a chance for the Championship.
Despite blips on the 5th and 8th, Raj hit the turn at +1, one ahead of Brendan who turned square. With 3 pluses and a loss over the next four holes, Raj stood on the 14th tee at +3. Brendan had managed a plus at 10 and then a birdie at 11 to reach +2, but bungled the 13th and was at +1 for the day as he walked off the 14th green.
The nerves might have kicked in at this point because Brendan managed three losses in a row at 15, 16, 17 and Raj did the same at 14, 15 and 16. Raj's loss at 16 came in spectacular fashion. With a one foot putt left for a par and a plus, Raj not only managed to miss it, but the one on the way back as well! 3 putts from a foot! Earlier Brendan's loss on 16 had been equally spectacular. Wedge in hand after a huge drive, he airmailed the green (allegedly hitting his wedge 150 metres) into what was variously described as kebbidge (sorry I can't spell in Kiwi) cabbage/jungle up the hill at the back of the green. Gordo was nowhere to be seen after the round. Apparently he had made a dash to the races, but some people were worried he was last seen heading into the jungle looking for Brendan's ball.
Raj was able to steady with par for a plus on 17 and a half/square down 18 for a score of +1 which was good enough for a share of first and 8 (and a 106 in total) championship points. Brendan made a consolation plus on 18 and finished at -1 for the day. Importantly this was enough for him to sneak into equal second place with a bloke a new member Tim referred to as "Ryan". The confused Apprentice Assistance Handicapper checked the membership records and it turns out Porks first name is Ryan.
Now Harry is still in Europe and it is rumoured he was thinking of doing a return trip dash back from Europe to play this weekend and try and protect his podium position behind Raj in the Club Championship. He will likely be displeased that his main competitors for the podium, Porks and Brendan, shared second place points. Brendan now has 7 points on Harry in second and Porks is only 3 behind in fourth.
In and amongst all this, Chris J also managed +1 for the day and equal first place. In a statistical quirk that any "Stan the Statistician" handicapper will appreciate, it just so happens that Raj and Chris J started the day with exactly the same handicap (13.7 = 14) and both lose 2 strokes to 12 (12.4). Both should be aiming for single figures in 2024.
Also overshadowed by the Raj/Brendan show was Targe who played well for a -2 and third place points along with first place points in the Seniors Championship. Of course Harry has long ago locked away an unbeatable lead in the Seniors Championship, but there is still interest in the podium finishers there. Michael was very pleased with Targe's effort today because it knocked Blighty (does he have a first name?) down to second for the day for Seniors points, thereby helping Michael's lead over Blighty for second place in the Seniors Championship.
Targe also led the field in respecting remembrance day and observing the minute's silence at 11am, the eleventh hour of the eleventh day of the eleventh month—pausing to remember those who have served and those who have died in all wars and peacekeeping operations. Thanks Targe for the reminder.
Blighty's -3 and fourth place overall was matched by Adam, with Gordo "doing the SoS" and sneaking into 5th place overall with -4. Hopefully his punting at Flemington will be in plus territory.
The only player out of the points today was Andrew Noble who also managed the most birdies (2) with only 5 scored across the field for the day.
There was significant debate last week about what comes after "quadruple". When Chris James hit his shot off the 4th, his new signature "knock down 9 iron" under the tree, the debate seemed academic, but it kept running a bit past the hole and despite various attempts to doctor the tape, the group kept getting 5.3 metres and therefore quintuple jackpot it is for next week!
Some consolation for Chris came on the 15th when another knock down 9 iron to about the same distance was enough to claim the ball. On the 18th, new member Tim, a workmate of the guy called Ryan, claimed the ball. Like Raj, Tim managed to make it to 100+ for the day but the rumour is he has plenty of room for improvement and like all new members, his early handicap may well be ridiculed when he starts playing for points. Welcome to the club Tim!
Next week it is a Priems Cup round. It's a fun format and hopefully we'll see a few more registrations than this week's 10 players. The Priems brothers are warming up for the big day at Mansfield this weekend where it is reported that a few too many Friday night beers may have been a factor in the Saturday Mansfield stableford scores all being in the 20's. Here's betting both brothers score in the high 30's or better next week as they battle it out as opposing captains.
Results for Saturday, 11 Nov 2023
1st Chris James (+1) 1st Rajesh Mahto (+1) 2nd Brendon Mitchell (-1) 2nd Ryan Porker (-1) 3rd Targe Mifsud (-2) 4th Andrew Blight (-3) 4th Adam King (-3) 5th Gordon Hill (-4)
Seniors Results: 1st Targe Mifsud (-2) 2nd Andrew Blight (-3) 3rd Gordon Hill (-4)
Nearest the Pin Results: ProPin – 4th Jackpot BallPin No 1 – 15th Chris James BallPin No 2 – 18th Tim (Guest) Surname NYK!