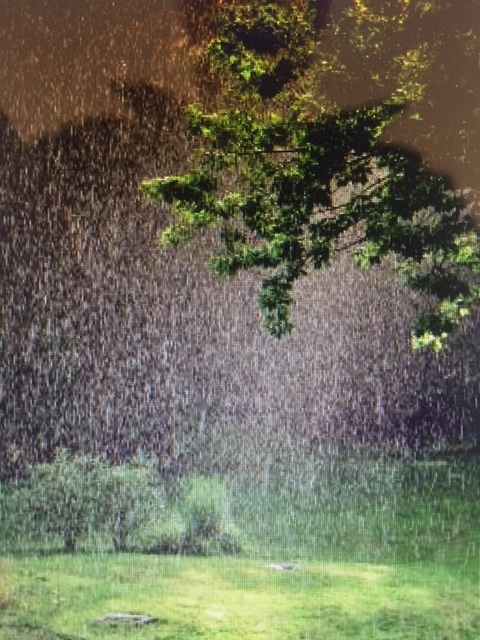 So keen were the members to get back into the game that there was even a registration before the announcement of the easing of restrictions had been made. And, they kept coming at such a rate that before too long the bucket was full and overflowing and decisions were being made about whether being paid up and passionate out weighed being faster off the mark to register. And then the weather man intervened and started making dire predictions about significant rainfall events on and about our Saturday – how dare he!.
When the day finally arrived, there was an ominous sound of rain on the roof and the radar screen was pretty full of dark blue and even patches of yellow and red. Pepsi was adamant that he was going to play even if there was lightning for some domestic reason that doesn't bear mentioning here. Chrispy wasn't sure whether to have a comp or not but, eventually, when enough people had pressed money into the palm of his hand (or not in at least one case, hey Rob) he submitted quietly enough and agreed to play to make up the even number. This rounded the number of players out to twelve with eleven members and one guest, Zimmer.
To draw a horse racing analogy, there are obviously some mud runners in the Club and others that prefer a firmer track. The stand out result for the day was from MattH who managed to master the art of the under-water putt to come in with a handicap equalling score of 36 points. And, just to prove that he is no turkey, Mehmet was not too far behind with his tally of 34 points.
Fortunately for Pepsi there were no lightning bolts to avoid but he did have a couple of not so great (for him) scores that restricted his total for the round to a nice round 30 points. Whitey played with Matt and might have been inspired by that performance to run close behind Pepsi into fourth place with a 29er. Rounding out the points for today was Porks and his 28 points got him one of the Championship type and that split the tie at the top of the table by the smallest possible margin. Game on!
Zimmer has decided that it is time to make a come-back to the great game and he plans to re-join our happy band. If his drive on the first and the score that he put in for his first card for his new handicap is any guide, he has not lost much of his touch despite not having played since he left (or so he says). It certainly showed up on the par threes as he managed to score the BallPin on the 18th with a shot to about 1m and the ProPin on the 15th with a shot to a similar distance. His birdies did not count to the tally of four from the members.
Chrispy managed a win in the Seniors Championship today which might not have been that hard given that he was the only Senior that managed to make it onto the course. The several seniors that turned up but did not venture out might very well be cursing their decision. Or, they might just be content that they stayed dry. For the punters out there, it would pay to check the penetrometer reading before laying out your hard-earned on Noodles if his score today was any guide. The software would not believe the result and some re-programming was required to get the results processed.
Hopefully the weather will be kinder in future and, even more hopefully, there will be further easing of restrictions so that we can get back to some sense of normality sometime soon. In the meantime, take care and stay COVID safe
Results for Saturday, 24 October 2020
1st Matt Hunt(36) 2nd Mehmet Akdag(34) 3rd Andrew Petricola(30) 4th Rodney White(29) 5th Ryan Porker(28)
Seniors Results: 1st Chris Priems (26)
Nearest the Pin Results: ProPin15th Kazim Akdag BallPin No 1 – No contest BallPin No 2 18th Kazim Akdag