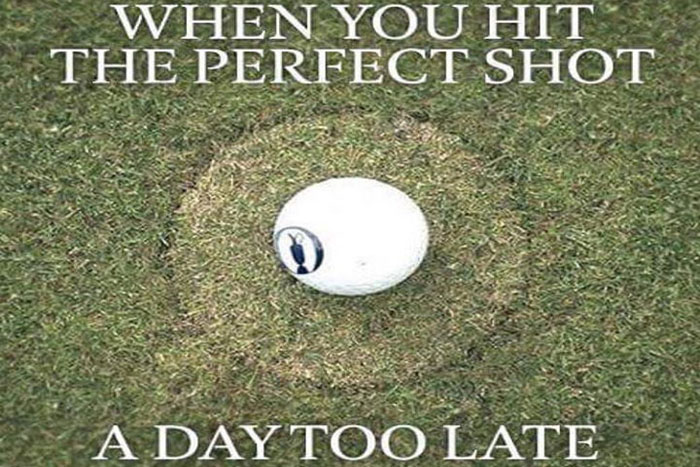 For a change for this Summer, conditions were perfect and not too hot and not at all rainy. 21 players turned up (some earlier than others) to battle it out for a chance for a double (or triple) plus and championship points. This included a few fresh faces, Pete's mate Matt was again entering his handicapping card and will soon be eligible for normal comps, Benny returned for his first game of the year and Simon returned for his first hit in months (with rumours that he may be back in Melbourne permanently).
Unlucky for porks, he had slept in and was very late getting to the tee off area, and as if his morning was not getting any better, he had to play with Brendon in a twosome at the rear. This did not seem to hinder Brendon at all as he was one of 5 players announced as joint winners on the day! Never been seen before they were saying, too many points to give away. Well as it turned out both Ken and Enzo had made some drastic errors with their scorecards (and their markers too) and had not fully adjusted to their recent lower handicaps and ended up further down the leaderboard.
This left Brendon sharing the win with Targe and JQ on a score of plus 2. Brendon's card included 5 minuses, 5 lost balls and a topped drive on the first that barely made it down the hill. Targe's card included 3 wipes, JQ's card included 5 wipes and 7 pluses, so it goes to show that you can turn it around if you persist!
2nd place was also shared by Jason and Whitey with very respectable scores of +1. 3rd place on square was shared by Peter, Peps and Simon. It was reported that peps chipped in twice during the round, which was his 599th for the club so next week will be the big 600!
A whopping 5 players shared 4th place which included Benny, Blighty, Roddy, Matty and Sossy, who was talking in backswings from 3 holes away for some of the round! The last point placers were Noods and Enzo with -2. Enzo was lucky enough to land one close enough for the 4th ball hole, Simon likewise on the 18th ball hole and the money hole, which was a jackpot from last week, went to none other than JQ. He didn't make the birdie putt but reconciled on the 15th, which was one of 18 carded for the day.
The tee markers on the 17th were down the front tier and the flag was in sight. A few tried to go for the green and Matty blasted one to about 2m and easily sunk the eagle putt to raid the nest with a decent collect of balls.  After all of the points, only 4 out of 20 eligible players failed to score. To bad so sad.
Just a reminder that the AGM is coming up on 07 March. All Committee positions will spill and Treasurer, for one, is not renominating. Feel free to nominate for this or any other position that takes your fancy. Committeemen, activate your succession plan.
Also a reminder that the draw for the Matchplay Championship will be done after the round on 29 February. Everybody will be included unless you choose to opt out by registering your intent on the Registration Form on the web-site. As an alternative, you can notify Harry by email. If you remain in the draw then you are expected to abide by the rules particularly as they relate to arranging of matches and completion of rounds by the deadlines. We would prefer to avoid people missing out on gaining a place in the event because of subsequent walkovers.
Results for Saturday, 22 February 2020
1st Targe Mifsud(+2) 1st Brendon Mitchell(+2) 1st John Quinlan(+2) 2nd Jason Hopkins(+1) 2nd Rodney White(+1) 3rd Peter Damou(□) 3rd Andrew Petricola(□) 3rd Simon Powell(□) 4th Ben Akdag(-1) 4th Andrew Blight(-1) 4th Rod Grant(-1) 4th Matt Hunt(-1) 4th Stephen O'Sullivan(-1) 5th Stephen Butterfield(-2) 5th Enzo Cirone(-2)
Seniors Results: 1st Targe Mifsud (+2) 2nd Simon Powell (□) 3rd Andrew Blight (-1) 3rd Rod Grant (-1)
Nearest the Pin Results: ProPin12th John Quinlan BallPin No 1 4th Enzo Cirone BallPin No 2 18th Simon Powell
Eagle's nest Results: Eagle 17th Matt Hunt