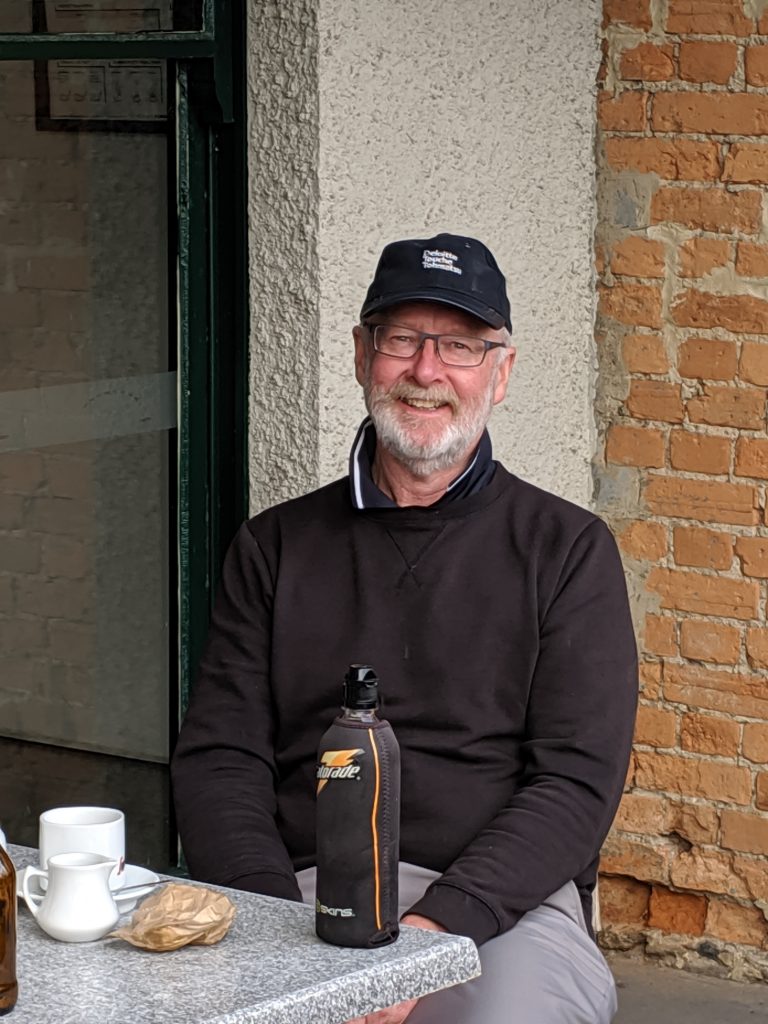 It was a dark and gloomy morning for the July monthly medal and there was news that the course had taken a bit of a beating overnight. It was not from the weather but the infamoous local teens who had taken a liking to the greens and thought it would be best to leave there mark by doing some skids with they motorbikes. As a result, the 3rd, 9th, 11th and 18th greens had a local rule where two putts maximum would be taken if you ended up on the green.
What would this mean for scoring, if there was no chance of 3 or 4 putting? Well it didn't help that much as the course was also fairly soggy from some rain, but it did not seem to hinder Dennis as he played consistently well to score nett 66 and take home the medal. His confidence was soaring as he was about to tee off on the 15th, as he announced to his group "how close should I put it". Gordon responded with"how about a foot" and Dennis said no worries and hit a beautiful shot to put it to 55cm. It was more than close enough for the pro pin too!
Blighty had an up and down day, with his ball not making the ladies on the 3rd. He seemed to take a liking to putting off the green and was sinking putts left right and centre from the rough on about 6 holes. Although after coming off a 4 putt and 8 on the 16th, he hit a nice drive on the 17th to be about 30m from the green. In keeping up with his lack of use of the green for most of the day, he hit a nice little sand wedge which ran out and dropping in for an Eagle! 12 balls from the eagles nest later, he scored well enough for second place after a miscalculation on his handicap. It could have been better on the 18th as his tee shot was just off the green, all he needed to do was hit it on the green for a guaranteed bogie, but he proceeded to hit it through the other side and ended off the green. In typical Andrew form he hit his 3rd well past the hole, and then sunk the easiest of 15 footers for bogie after all.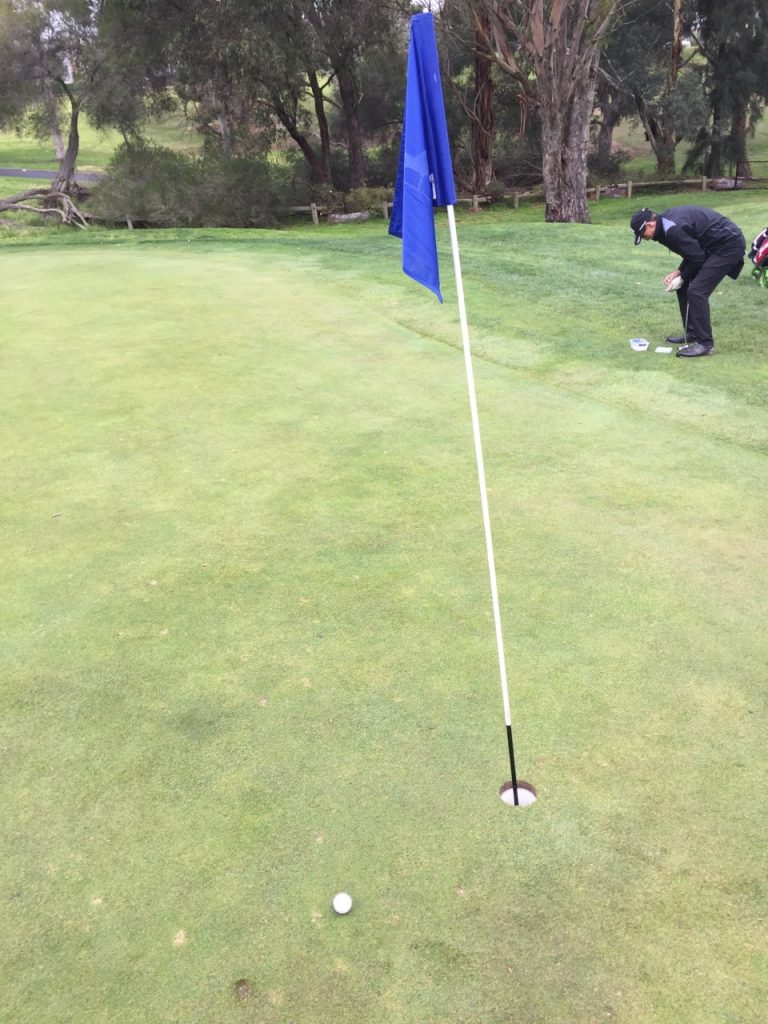 Second place was also shared by Noodles and Dave with a 69 nett. Targe was complaining that his handicap keeps on creepinng out but he keeps on scoring points, and he played well enough on the day to come in 3rd place. Adam, Brendon and SOS all slotted into 4th with nett 71 and finally a couple of lefties in Ryan and Brent rounded out the placings with 72.
After blighty had sunk his eagle approach shot, there was a bit of celebrating and commotion, and with Blighty talking in SOS's swing, he proceeded to shank it from the 18th tee. There were rumours that Dale had been consistently shanking them all day too.  There were 7 birdies carded from 21 players, which included Brent who won the ball on the 12th. The final ball was won by Beast who hit a nice shot on the 18th.
There was a bit on controversy on the local rule on the 9th, Ryan was going for a birdie on the damaged green, but hit it past the hole and it rolled down the hill and off the green. He argued with noodles for the rest of the day about the rule, stating that he should recieve 4 for the hole even though his second putt would have been from off the green. It was verified with the club pro that this is the correct rule, much to Noodles dismay.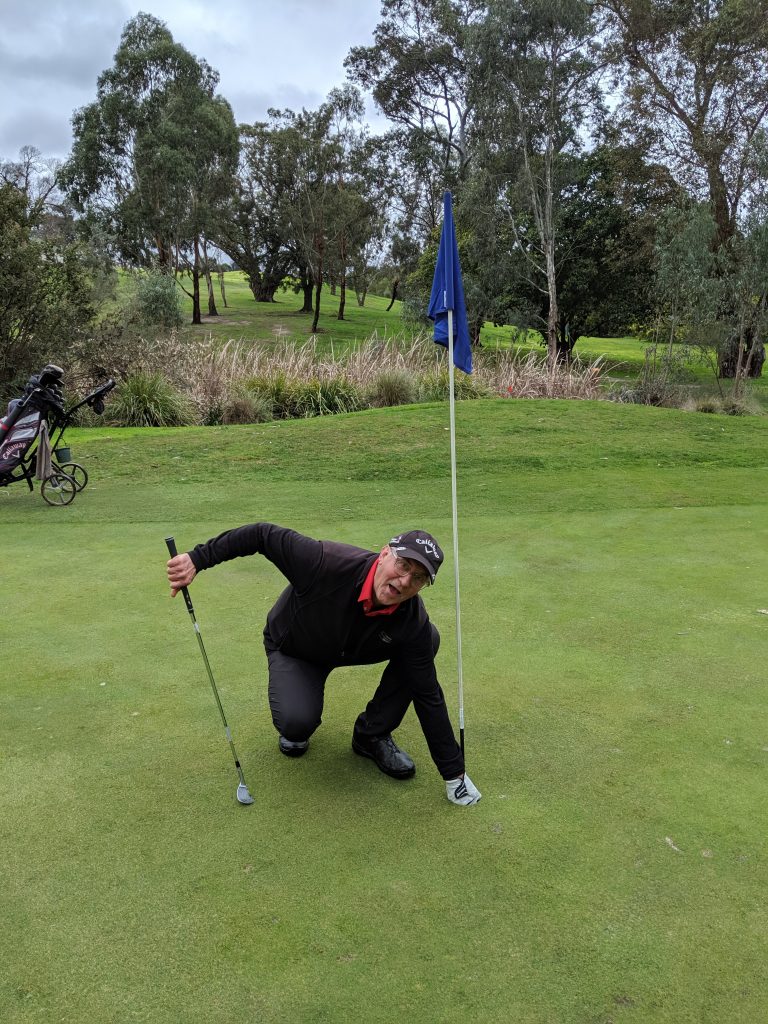 There were some rumours circulating that Dennis had been doing some welding work around Harry's place and had been given some juicy handicapping benfits as a result. As H is away on a golfing expedition, the assistant handicapper is having none of this and has taken the liberty of adjusting Dennis by a couple after his win! Simon has taken a liking to gardening recently and is also considering helping out Harry too!!
Results for Saturday, 03 August 2019
1st Dennis Ward(66) (c/b t9) 2nd Andrew Blight(69) 2nd Stephen Butterfield(69) 2nd David Mullenger(69) 3rd Targe Mifsud(70) 4th Adam King(71) 4th Brendon Mitchell(71) 4th Stephen O'Sullivan(71) 5th Ryan Porker(72) 5th Brent Rowley(72)
Seniors Results: 1st Dennis Ward (66) 2nd Andrew Blight (69) 3rd Targe Mifsud (70)
Nearest the Pin Results: ProPin15th Dennis Ward BallPin No 1 12th Brent Rowley BallPin No 2 18th Bill Eastoe
Eagle's nest Results: Eagle 17th Andrew Blight