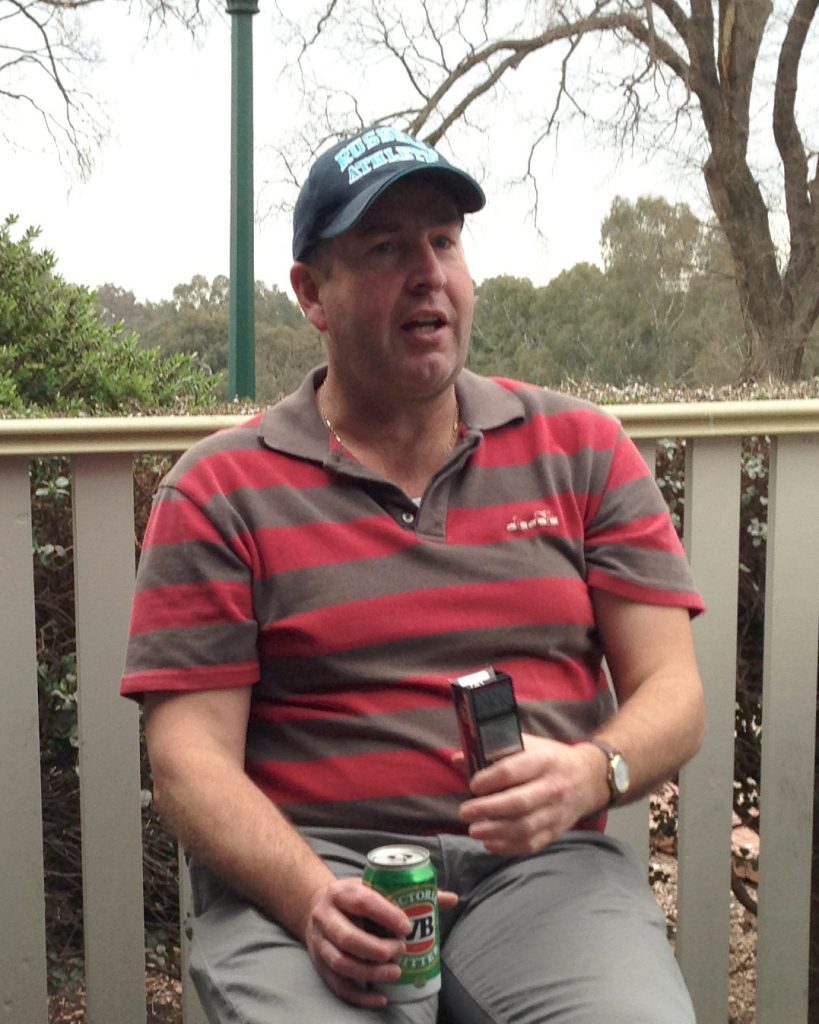 As you might expect for the first day of the Fred Howe Winter Cup, the weather was cold. There was a little wind but nothing to freeze your whatsies off. And it was a lovely fine sunny day. With a big trophy and lots of points on offer it is not surprising that 21 members turned up with their hopes high and hoping to keep their strokes low. Trev tried his hand again but, unfortunately, had to call it quits after nine. Let's hope that whatever it is that is causing the problem settles down soon and Trev can get back to enjoying the game that he obviously loves. So, what of the twenty remaining contenders for the honour and glory. There were lunatics and ballerinas. There were diggers and dealers. And, there were woulders and coulders.
When the umpires took off the bails at the end of day one, Whitey was still at the crease with 81 runs on the board and 39 points to his name to post a handy lead for the opposition to chase. There were a few chances with nicks through the slips cordon but the ever nimble Rod was able to steal a single and keep the scoreboard ticking over. Definitely the one to catch next week.
JQ is flying back in from where ever he has flown out to and so he might have to deal with some jet-lag if he is going to make up the four points that separates him from the lead. The margin might have been smaller had the little fella not taken quite so many singles although he did compensate by snagging a couple of birdies to improve his eclectic and helped us to get to the grand total of six for the day. One of the other birdies for the day was down to Peter and it was an eclectic counter as well and so his lead in the event is even more comfortable than before.
There must be something about the 18th that Simon doesn't think he deserves a stroke on it as, once again, he (and his marker) sold himself short in the points tally. As a result, Si is now filling third place on the leaderboard on his own. He obviously has hopes of catching the leader as he was spotted heading out for even more practice at the course during the week.
Peter, Damo, Brendon and Dennis have got a bit of work to do but, if they can fill in the gaps that they left in their cards in this innings they could be in there with a chance. Blighty, who just happened to be Simon's marker, also had a blooper on his card and that separated him from a veritable pack of players one point further back on 31 points. He will probably have to dance to a different tune next week though.
If you can't trust a senior Committee member, who can you trust. The ProPin was a Jackpot on the 12th and an unnamed Vice-President was detailed to put the markers out. Guess what, he forgot! So, the marker went out on the 18th. Along comes an unnamed President and puts his name on the chit with a distance of 6.45m. Errrmmmm, isn't there a limit of 5m? Good news everybody, it's a double Jackpot next week (probably on the 12th, but who knows!). The first BallPin was on the 15th and that went to (who else) Brendon while JQ will just have to be content with the BallPin from the 18th.
Ryan is doing his best to keep the golf ball manufacturing industry alive and the stray count probably goes some way to explain his position on the Leaderboard. The list of MIA includes drive on first, approach on 6th, drive on 14th (*3) OOB. What you would call, not a good result. Noodles reckons that he woulder done a lot better if only he coulder sunk a putt. It's understandable that he could miss them right and left but how you can miss them centre takes some explaining. Maybe Bob can after one of his reportedly hit dead centre, disappeared from sight only to reappear and finish about 300mm from the hole. Probably hit the bottom of the cup too hard and bounced out. What Bob had to say is probably unprintable.
Rob is thinking of applying for a job on the Underground loop project after taking an absolutely huge divot on the 18th tee that sprayed the whole group with dirt and mud. Matt, who is back for the first time after his knee job was not impressed. It also seems that the surgeon forgot to include the golf swing improvements that Matt asked for. Rob is giving no quarter in his match off with Matt and claimed his win today.
Results for Saturday, 20 July 2019
Leaderboard Round 1: 1st Rodney White(39) 2nd John Quinlan(35) 3rd Simon Powell(34) 4th Peter Damou(33) 4th Damien Lee(33) 4th Brendon Mitchell(33) 4th Dennis Ward(33) 5th Andrew Blight(32)

Seniors Leaderboard: 1st Simon Powell (34) 2nd Dennis Ward (33) 3rd Andrew Blight (32)
Nearest the Pin Results: ProPin18th Jackpot BallPin No 1 15th Brendon Mitchell BallPin No 2 18th John Quinlan