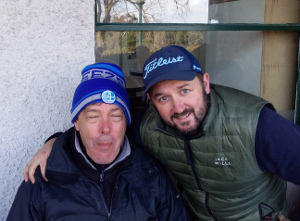 And it blew nobody good! But, thirteen foolhardy souls braved the significant chill factor and hit off into the gloom with a bit of a shower threatening to make the day even more miserable. Then the sun came out. Then it clouded over. Then the wind sprang up. Then it rained a bit. Then the sun came out. All in all, a fairly typical winter's day in Melbourne. Mostly the field was pretty well rugged up for the conditions although there were a few of the usual suspects out there in their bare legs and trying to put a brave face on it. Simon had his wet weather gear on and had a bit of trouble with his pockets and things kept falling out of the leg of his trousers. And, no, it wasn't balls (golf balls that is), it was the controller for his cart. Heading down the hill on the 17th, the controller hit the bitumen and spilled its proverbial guts. Meantime, the cart just kept on rolling as Si chased on after it, trying to get the batteries back in while trying to keep within range so that he could stop the thing from damaging somebody or itself, or throwing itself into the Yarra. Who said the robots were going to take over?
Gordon reckons he is still trapped in Gotham City and The Tjoker is wild as he failed to capitalise on a pretty speccy front nine of 21 points. The extra fourteen on the back was just enough to bring him in at 35 points for a share of first place. JQ turned in a remarkably similar card as far as totals went but he managed to get around without a miss on the card. He also landed three birdies on fresh holes for the Eclectic and scored a fair proportion of the eight that we managed for the day. His birdie on the 12th was the result of rattling in a 7m putt just moments after putting heaps on Dave who had rattled in a 9m putt for his birdie as well.
Once again the second place podium was pretty well crowded as Dave, Porks, SOS and Dennis jostled to get a toe-hold on the step. Ryan's placing was thanks, in no little part, to the last three holes that were completed in just nine strokes for a tally of 10 points. His birdie on the 16th was thanks to a brilliant eight iron from amongst and over the trees to within millimetres of the pin. Dave might have played better except that he managed to lose his range-finder. Fortunately, SOS, honest cop that he is, found it and returned it safely to Dave's hands, There was a rumour that Porks argued vigourously in favour of posting it on eBay. The handicapper was obviously too lenient on Dennis after his win last week.
On the other hand, Targe obviously hasn't caught up with where he gets two strokes but, even so, he still came into third place. A couple of fat ladies did not help the cause on the scoring front. Harry struggled with the putting today and a number of triple headers caused more than a little heart-break. Even more heart-breaking was the result of the drive to the 15th green.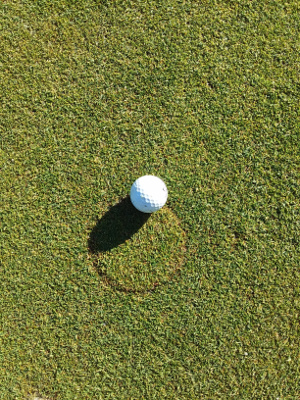 That would have to be what you call a Claytons! Maybe next time.
The Beast must also be unused to his handicap as he neglected to recall that he had a stroke on the 18th and his marker was asleep as well. So, Bill was able to claim fifth spot by himself as the correction put him just in front of Simon. Sorry Si. But at least you got your birdie on the 7th with what you yourself described as a pair of brilliant golf shots.
There is almost enough room to publish the list of players who didn't collect points but that would be a bit harsh. Chrispy is not sure whether he is happy with his new handicap as he thought it would allow him to be more competitive. It is suspected that he wasn't being serious when he said he wanted to go back to his old handicap. Dale was seen buying a round of drinks and the immediate thought was that he had scored a draughtie. However, it seems that his misdemeanour was that he had taken a putt on the first and over-cooked it so much that the ball finished off the green. Bill did have a worried look on the second after he absolutely smashed the ball off the tee, high into the trees on the right from which it did its level best to get back to the red markers but didn't quite make it. Peter was keen to get away after the game, just as soon as he had finished his sandwich – and helping the young lady wash down her buggy at the hose station.
Next week is the first round of the Fred Howe Winter event. Another two weeks of Stableford so you can't blame the competition for not turning up. The tee marshalls are planning to do a random draw to fill the groups so they would like a nice early roll-up so that it can be done in good time for the first tee. The sun is starting to rise earlier and so should you.
Results for Saturday, 13 July 2019
1st Gordon Hill(35) 1st John Quinlan(35) 2nd David Mullenger(34) 2nd Ryan Porker(34) 2nd Stephen O'Sullivan(34) 2nd Dennis Ward(34) 3rd Targe Mifsud(33) 4th Harry Boughen(28) 5th Bill Eastoe(27)

Seniors Results: 1st Gordon Hill (35) 2nd Dennis Ward (34) 3rd Targe Mifsud (33)
Nearest the Pin Results: ProPin12th Jackpot BallPin No 1 4th John Quinlan BallPin No 2 18th David Mullenger