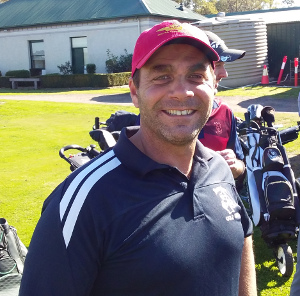 Trust ScoMo to call an election on the date of the final round of the David Ford Autumn Cup. You would reckon that he should have checked with us first. But, he did pick a good day for it but the sales of democracy sausages will be down. Both because of the number of people who pre-polled and because we twenty three were well and truly well stuffed by the repast turned out to perfection by the next contender for the title of MasterChef. None other than out own Chief Pooh Bah Tee Marshall, Chrispy. And that is not a reflection on the doneness of the snags and burgers.
During the week as the GOATee Marshall was marshalling the troops, the drop-outs were flowing like disgraced political candidates and the hopes of members further down the Leaderboard began to rise and there was a hope that Dave might give it a miss and really open up the field. But David did turn up and with a lead of four points over the next contender it seemed that the event was his to lose. But there was no accounting for Pepsi who fairly blitzed the course, scoring five of the 12 birdies for the day, to card a one over the card 69 for +4 points. Dave's usual pin-point accuracy seemed to have abandoned him today and some errant shots cost him dearly and his -1 for the day brought him into a tied score for the event with Pepsi at +3 overall. For the first time is some time, we had to resort to a countback and as a result the trophy went to Pepsi +1 to -1 on the back nine.
Harry started the day level pegging with Pepsi but he was unable to put together such a stellar performance although there were quite a few potential points left out there as a number of chips left longer than desired putts and putts that narrowly missed the mark. An overall square card scored a second in the main event and a win in the Seniors.
Peter continues his very steady games and produced a square card today to grab third place on his own with an event total of -3. Targe had a lot of trouble with trees today, particularly on the front nine although the 10th was also rather eventful for him as he played his fourth shot adjacent to the road on the left of the 13th. His resultant -4 for the day brought him into a tie with Porks for 4th place. Ryan was very consistent from week to week but he was also otherwise occupied this week because he was concentrating on giving a right royal shellacking to Rob in their Matchplay match. As a result Noodles is not feeling quite so bad as Rob went down with a new high margin of 7 and 5.
A swag of people were not too embarrassed to take a Championship point with their event total of -5 points. Simon, Whitey, Bob and Gordo filled that list. Gordon was probably thinking more of his forthcoming holiday in the US of A which is going to keep him out of circulation for the next three weeks. This also might have explained why Gordo walked back looking for his misplaced scorecard holder. He couldn't find it until Ryan pointed to something at Gordon's feet and asked 'Is that it? It may be that this trip is intended as a celebration as Gordo has a birthday coming up in the coming week. The Birthday Birdie says have a good one mate. The Birthday Birdie also says to make sure you give Targe a slap on the back next week to wish him well as well.
We welcomed a new member to our Club today as Adam King joined us for the first time. The consensus of opinion of the group that played with him was that his current handicap does not truly reflect his ability. His +2 for the day today has gone some little way to correcting that situation. We look forward to a long and enjoyable association with Adam.
In the Nearest the Pin competitions, the first BallPin was on the 4th hole and there was certainly a bit of competition for the little white pill on offer. But, in the end, it was Harry who steered his drive to within a couple of metres to collect. The second BallPin was not quite so popular and ChrisV, who we haven't seen a great deal of in recent times, was good enough to fight off all potential contenders including Targe who missed out by the narrowest of margins. The ProPin was on the 12th and Pepsi scored the dosh by getting to 1.91m inside Joe, the only other contender. And that was not one of the birdies.
Whitey was not particularly happy on the 10th when his ball went 'walk-about'. It was fairly obvious what had happened as there was another ball left 'begging' on the fairway. Damo is purported to be a mate of Pepsi's but at one stage as his buggy rolled in Andrew's direction he was heard to shout 'get him'. It seems unlikely that he was trying to purposely nobble Pepsi's chances in the event.
Noodles didn't have a great round and some of his tee shots were less than spectacular. When he missed a putt on the 7th, there was a suggestion that his putter traveled further than some of his drives. You can draw your own conclusions from that. Chrispy was in a bit of a dejected mood and was speculating as to what was a club record for the worst total for the two rounds of the David Ford. In the fullness of time, Chrispy might just be informed as to whether he has anything to worry about in that regard.
Trees have a bit to answer for and we saw a situation where Enzo reckoned a tree that interfered with his shot needed a stake. Well, Dale managed an almost identical result today on the 6th with his ball hard against the trunk and between two exposed roots. Which reminds me, Dale is part of a newly proud parent group with a son, Nicholas, born a week and a bit ago.
Results for Saturday, 18 May 2019
1st Andrew Petricola(-1, +4, +3) (c/b) 1st David Mullenger(+4, -1, +3) 2nd Harry Boughen(-1, +1, □) 3rd Peter Damou(-3, □, -3) 4th Ryan Porker(-2, -2, -4) 4th Targe Mifsud(□, -4, -4) 5th Simon Powell(-3, -2, -5) 5th Rodney White(-2, -3, -5) 5th Bob McDonald(-5, □, -5) 5th Gordon Hill(-5, □, -5)

Seniors Results: 1st Harry Boughen (-1,1,0) 2nd Targe Mifsud (-4,0,-4) 3rd Bob McDonald (□) 3rd Gordon Hill (-5,0,-5) 3rd Simon Powell (-3,-2,-5)
Nearest the Pin Results: ProPin12th Andrew Petricola BallPin No 1 4th Harry Boughen BallPin No 2 18th Chris Vinecombe