Month:
October 2019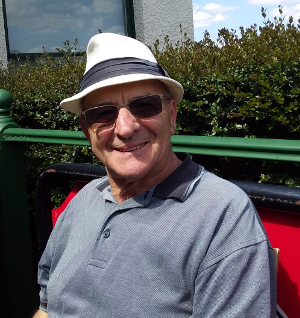 "Tell 'im he's dreamin' " was the only possible response to the question as to whether there were preferred lies in play today. The grass (and weeds) have had a nice little kick along with the bit of rain and some warmer weather but the ground-staff have been on top of it and the course was a picture. The greens were a bit hard and fast which created more than a little angst when chips skidded on to finish on the far side and the third still has a little way to go before it can be classified as good. All in all, there is no reason why the course should not have submitted to a good hiding from, at least, some of the sixteen members who turned up for this important Major leading into the tail end of the season.
It did look as if we had a clear leader when Enzo put in his card with a +2 on the score line. However, maybe the big E has had a recent handicap adjustment but, unfortunately he does not get two strokes on the 13th any more and so his tally came back to just one on the positive side of the ledger. That brought him back into line with Chrispy, who walked and carried his bag and didn't complain and Ken who seems to be coming into a bit of form with some recent podium finishes. The Beast reckons that Enzo was cunningly putting his ball just in front on the green so that he could do some homework on the line of Bill's putt.
While on the subject of the Beast, he started off in fine form and after the front nine, had 3 points in positive territory. Then, Bill reckons, people started giving him advice and, what is worse, he started to listen to it. His drive on the 11th could not be found and, so, he did the big walk/jog back to the tee with the comment that he just needed to birdie the hole with that ball. He went close to 'eagle-ing' it from his monster second drive and only just missed the 'birdie' on the way back. The rot had set in and never really did set out to bring in a disappointing -5 on the back for an overall result of -2.
There were three thirds on minus 3. And, if you are any sort of a mathematician, you know that three thirds makes a whole. Probably, a whole lot of hope to be able to catch the leaders but, stranger things have happened. And you couldn't hope for a stranger whole that Harry, Rob and SOS. Rob might have been a bit lucky to be so well placed after his putt on the 1st teetered on the edge of the hole. As he cursed his luck and walked up towards the hole, the ball teetered again and fell into the hole. Rob denies that he dawdled and/or tromped heavily in the process.
JQ asked Blighty how he had gone and, when told minus four, said that that wasn't such a bad score. Mainly because that was what he had as well. That put them together with Dave and Porks in fourth place on the leader board. The rearrangements at the top of the table allowed Gordon and Brendon a toehold on the interim podium where they were joined by Bob by dint of an extra point claimed on his card as well. As Enzo and Bob marked each others card, maybe this was a quid pro quo.
The first BallPin was on the 4th and, with the pin in the back left corner of the green with the tees well back, it was not an easy mark. But there was one mark on the chit and Dave collected the pair from the Jackpot from last week. The pin on the 18th was on the lower deck and, perhaps should have been an easier target, but Rob was the only one to get his name mentioned in despatches. The super Jackpot ProPin was on the 15th and, despite pleas from his playing partners, SOS did a Brendon and refused to share and that was before he had put the ball to 3.35m and collected the dosh. It'll be 'fries with that' at Macca's tonight. Perhaps it was Karma, but SOS managed to three putt for a minus and so did not contribute to the eight birdies that we scored for the day.
There are only a couple of names that have not been mentioned so far. Pepsi started off with one of the birdies but after that it was as if, as Chrispy put it, an alien had taken over his body. As for Noodles, less said, but some of the pins were in mortal danger when putts did not fall. And on the subject of putts not falling, the pin position on the 14th was, shall we say, in a testing position again. More than one putt came back marked 'return to sender' and Chrispy picked up after four as he did not want to equal Rob's performance from last week. It was suggested that maybe we need to use velcro coated balls when playing the 14th to get them to stick.
Gordo was not too happy with the course of his game and, at one stage, was so distracted that he was teeing up between the red markers. Fortunately, his playing partners were kind enough to point out the error of his ways before it was too late. Some random players were wandering (and carting) about on the 11th and SOS let fly with his best draw shot and a lusty shout of fore. The ball went very close to the offending vehicle and it is considered doubtful that SOS could have done any better with his trusty side-arm.
Final round of the Fred Kitson next week with our usual delicious bar-be-que. Even if you didn't make it this week, come along and join the fun. You could collect a ball in the ball-run but please let us know so that we can be sure to have enough tucker to go around.
Results for Saturday, 12 October 2019
Leaderboard Round 1: 1st Enzo Cirone(+1) 1st Chris Priems(+1) 1st Ken Watson(+1) 2nd Bill Eastoe(-2) 3rd Harry Boughen(-3) 3rd Robert Priems(-3) 3rd Stephen O'Sullivan(-3) 4th Andrew Blight(-4) 4th David Mullenger(-4) 4th Ryan Porker(-4) 4th John Quinlan(-4) 5th Gordon Hill(-5) 5th Bob McDonald(-5) 5th Brendon Mitchell(-5)

Seniors Leaderboard: 1st Enzo Cirone (+1) 2nd Bill Eastoe (-2) 3rd Harry Boughen (-3)
Nearest the Pin Results: ProPin15th Stephen O'Sullivan BallPin No 1 4th David Mullenger BallPin No 2 18th Robert Priems
---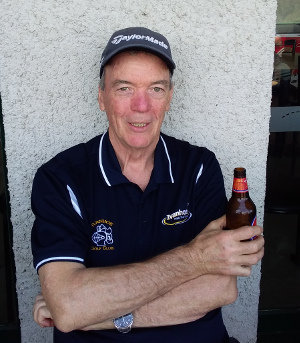 The calendar says we are into spring and there are signs that the grass is starting to grow and if the mowing isn't kept up then the roughs will be just that – rough. The greens have been aerated and the most recent attack seems to have resulted in little more than some rubber burns. The earlier scars on the third are still obvious and can result in some bouncy putts. Other than that, the course is in fine condition and with the cool, calm conditions there was little excuse for not scoring well. So, what other excuses do the eighteen players have?
The be(a)st of the day was, in fact, none other than the Beast who persisted in driving pretty much down the centre of the fairway all day and so far that they were hard to keep sight of. If it hadn't been for a couple of minor aberrations around and on the green the bottom line could have been rather less than the 66 that was carded. Bill was one of the few players that kept his jacket on for the whole round and that could explain why he was so 'hot'.
Just a single stroke behind Bill was Dale who took a few holes to really get going. Dale's card counted six sixes, five of which were in the first six holes. There was one five and no less than eleven fours. So, there were plenty of opportunities to have snatched the top spot. Targe, on the other hand put in a card with every number between three and eight. The three was a birdie on the 5th and it reportedly took a 10m putt to make that and, in so doing, contribute to the total of 9 birdies that we managed for the day.
There was a bit of a gap to third place where we found Ken with a net score of 70. It does seem that the number could have been quite a bit higher after Ken hit three balls from the tee on the 14th. Fortunately, for Ken, the first ball was found to be still in bounds but maybe all the effort on the tee had worn Ken out as he still managed to rack up seven strokes on the hole.
Fourth place was filled by Chrispy Pork which sounds like a crackling combination. Ryan seems content to keep gathering, at least some, points although Targe did sneak up a few on him today. Targe will miss out on scoring in the Fred Kitson so Ryan has a chance to get back his margin, and then some, if he can feature in this Major event. Chrispy's ankle gave him a bit of angst in the later stages of the round and he thinks he might play better if he starts using a buggy (but not a cart – yet). Dave was promoted to 5th place due to an error in transcribing his net score from the bottom to the top of the card. Sorry about that Noods, Bob and Matt.
Enzo's ears pricked up when he heard that the ProPin on the 15th had Jackpotted yet again. Rumour has it that he is going to be out all week practicing, just on that hole. The BallPin on the 4th managed to elude all comers and that, too, will Jackpot to next week. The 18th BallPin was located on the top deck and almost succeeded in eluding capture until Porks came along in the last group and took it out.
ChrisV was with us for the first time in a while but he was showing signs of being a bit under the weather (health-wise). After one bout of coughing and spluttering it was suggested that he should be at home in bed with a 'hottie' and maybe some honey would help. After Matt went from Mustard Jacket to Cock's Plate a couple of weeks back, today, his companions reckoned that he was playing with a heat-seeking missile and that there was something hot in the cups. That is until the 13th where he managed to do quite the reverse and made a 'snowman'. He wasn't alone in that regard as there were quite a number scored on various holes among the group.
The pin position on the 14th was generally described as being 'diabolical'. particularly by Rob who managed to travel back and forth no less than five times after Chris told him not to miss the first one. Rob blamed Chris for putting him off, to which Chris responded – you always blame the one you love. Harry can't understand what all the fuss was about as he just read the slope and the pace from off the green and judged it perfectly to have the ball fall into the hole for his par. He almost had an even more spectacular result on the previous hole with a chip that neatly cannoned off Gordo's ball to trickle just past the hole for the easiest of tap-ins. Lindrum could hardly have done better.
One of the real mysteries of the round was the source of a whole raw hens egg on the 11th fairway. There is a fair possibility that the raven that was pecking its way into it had carried it from somewhere. Perhaps some backyard poultry-man is going to miss out on breakfast tomorrow.
Our last Major for the year in the form of the Fred Kitson Spring Cup kicks off next week and a chance for a big move in the Championship Table, particularly with Targe out of contention and if Porks can be kept off the podium. It is everybody's favourite competition, Par, and there will be our usual gourmet bar-be-que after the second round. Be there and be square – that might be enough to win!
Results for Saturday, 05 October 2019
1st Bill Eastoe(66) 2nd Targe Mifsud(67) 2nd Dale Webb(67) 3rd Ken Watson(70) 4th Ryan Porker(71) 4th Chris Priems(71) 5th David Mullenger(72)

Seniors Results: 1st Bill Eastoe (66) 2nd Targe Mifsud (67) 3rd Bob McDonald (73)
Nearest the Pin Results: ProPin15th Jackpot BallPin No 1 4th Jackpot BallPin No 2 18th Ryan Porker