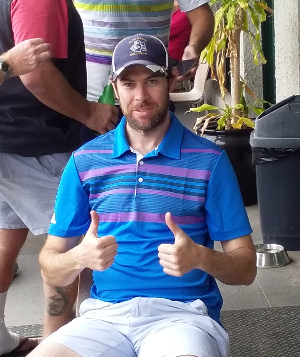 The question has to be asked – will it ever rain again? The ground staff must have reached the bottom of the barrel. The green sward that we have become used to is starting to look a bit brown in places and some of the cracks are getting large enough to swallow a ball. But, there is a bit more run to be had and the greens are still soft enough and in good condition, so there is no reason that eighteen keen beans could not score their pants off. There was a little bit of wind about from time to time but not enough to claim any blame.
Just before he was due to tee off, Porks had to make a trip back to his car to put away his coach's (read girlfriend) putter so that he only had the regulation 14 clubs in his bag. It would have been a shame to have disqualified him after he took to the course and rattled off a mere 39 shots to complete the first nine. The standard continued, almost unabated, on the back nine where another 38 gave a total of 77 for a net 64, more than enough to claim the first spot and the Monthly Medal for April.
Could anybody have challenged such an effort? Well, if it hadn't been for an eleven (yes, eleven) on the second, then Targe could easily have made a real contest of it. That made a bit of a mess of the front nine score, but, on the back, Targe took only one more stroke than Ryan and finished the day with a very creditable net 67 to take second place in the main event and top place in the Seniors. Those points keep him in the front of both Championship events although Porks is nipping at his heels in the Club Championship.
Blighty and Harry level pegged it for third place for the day and second place in the Seniors with their handicap equalling score of 68. Harry was spotted patting his pockets and inspecting his cart and bag looking for his ball to tee off on the 10th. Then it was pointed out that he had it in his hand. Just shows what concentration will do. Stef, Noodles and Craig tied it up for fourth while Steve was just a stroke behind with 71.
The Nearest the Pin saw a bit of competition today with a series of names written on and then crossed off (except for one). The BallPin on the 12th eventually went to Craig who got close enough to win but not close enough to get the birdie. The BallPin on the 18th went to Damo, who didn't get around to crossing off Stef's name but we gave it to him anyway. None of those three got the birdies, so it was up to others to tally up the fairly ordinary total of eight for the day. The ProPin on the 15th defied all efforts and so there will be a nice fat Jackpot next week.
Speaking of next week, this will be the inaugural attempt at the Ryder Cup teams event. This will be played in a Matchplay format with teams chosen by the team captains. There will be Championship points awarded for each Match winner and for each member of the winning team. There will not be points for individual performances, nor will there be handicapping. If players happen to be selected against their Matchplay Championship Round 2 opponent, they can choose to use the result for their match if they so nominate before starting the round.
And, speaking of Matchplay, there were two matches contested today. Stef and Steve finished off Round 1 and a very close run thing it was. There were only two halved holes in the match and it all came down to a putting contest on the last. Steve had done some homework on a previous putt and was shattered to see the ball do a lap of the hole and finish about 20mm outside the circle, handing the match to Stef, 1 up. A square result would have been interesting, as the practice green was chockers with a kids class and it might have been difficult to demand that it be cleared for a chip-off. Harry and Porks also played to get Round 2 under way and, despite the scoreline of 3 and 1 in Porks favour, the match was pretty closely fought. Harry just happened to strike Ryan on fire and a number of putts missing by the barest of margins could easily have been the difference on the day.
Trees rated a few mentions in the aftermath of the round. Rod and Jason variously tried left hand, back of club and upside down club to extricate themselves from close proximity. The Beast was also moved to mention that he had never seen so many balls so close to trees in a round and these weren't the stray ones that seemed to litter the course. Pepsi also fell foul when his shot to the 17th first caught a tree, and then bounced off a fence to finish hard up against the tree. Probably saved it from OOB though. Toe of putter was the only shot to play.
Chrispy came along and carted his way around the course and he thought he had attached himself to the marquee group which happened to include Pepsi. Chrispy had expected to pick up a few pointers in preparation for his return to play but he ended up being somewhat disappointed. He did opine that Pepsi must be a shareholder in CUB after he managed to rack up two draughties early on. Peter and Blighty racked up an air shot each. Peter claimed extenuating circumstances with the ball hard up against a tree while Andrew's was in the middle of the fairway.
The Birthday Birdie has been having a quiet time of it recently but there are a couple of items of note this week. Everybody's favourite Turkish Delight, Mehmet, will be breaking out the candles tomorrow and later in the week Rod will be celebrating the double four nothing with a nosh up after golf on Thursday.
Results for Saturday, 06 April 2019
1st Ryan Porker(64) 2nd Targe Mifsud(67) 3rd Andrew Blight(68) 3rd Harry Boughen(68) 4th Stefan Belevski(70) 4th Stephen Butterfield(70) 4th Craig Cameron(70) 5th Stephen Kelly(71)

Seniors Results: 1st Targe Mifsud (67) 2nd Andrew Blight (68) 2nd Harry Boughen (68) 3rd Craig Cameron (70)
Nearest the Pin Results: ProPin15th Jackpot BallPin No 1 12th Craig Cameron BallPin No 2 18th Damien Lee